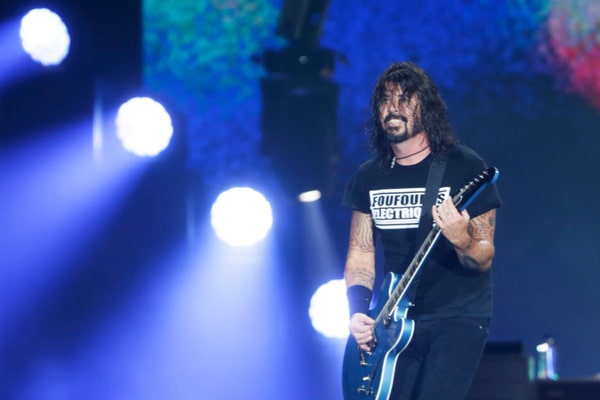 Dave Grohl performed a string of Nirvana and Foo Fighters hits at his book event last night. You check out snippets of these performances below.
Grohl is currently on the road performing and promoting his memoir The Storyteller, which was released yesterday.
The Storyteller includes stories of Grohl's life and career in the music business, which of course includes his time with both Nirvana and Foo Fighters. It will also feature his several meetings with some of the biggest household names in the industry, including David Bowie, Paul McCartney, and Iggy Pop.
Dave Grohl, @PaulMcCartney and @acdc walk into a bar…
Not the setup for a joke, just one of the incredible stories contained within Dave Grohl's memoir The Storyteller, available here: https://t.co/7AG2raiuhI
See our full interview here: https://t.co/ogbtSOAUhW pic.twitter.com/Oh3UyuL5Yd

— Waterstones (@Waterstones) October 4, 2021
Grohl performs string of hits at book event
During his event, which took place at New York's Town Hall, Grohl drummed along to Nirvana's "Smells Like Teen Spirit". The Foos frontman also treated fans to a live rendition of Foo Fighters' tracks "Everlong" and "My Hero".
Check out these performances below.
Grohl On That Nirvana Album
That Nirvana hit "Smells Like Teen Spirit" featured on Nirvana's 1991 album Nevermind.
The album has been attracting its fair share of headlines at present, with the baby who was used for the cover art Spencer Elden who is now a fully grown adult suing the band and anybody involved in the making of the album for "child exploitation".
Elden was reportedly damanding $150,000 off each party involved, including the Esate of the late Kurt Cobain. He also demanded that any any reissuings of the album be redacted.
Following the album's recent thirtieth anniversary reissue, former Nirvana drummer Dave Grohl has hinted that any future reissues of the album could be changed.
"I have many ideas of how we should alter that cover but we'll see what happens", Grohl said. "We'll let you know. I'm sure we'll come up with something good".
He continued, "I think that there's much more to look forward to and much more to life than getting bogged down in those kinds of things. And, fortunately, I don't have to do the paperwork".
Click here to read more about here.
Dave Grohl also recently confirmed that he would become the latest star to read a bedtime story on CBeebies Bedtime Stories.
It was reported that the rocker would read a story which was based on the Beatles track Octopus' Garden. More on that story here.