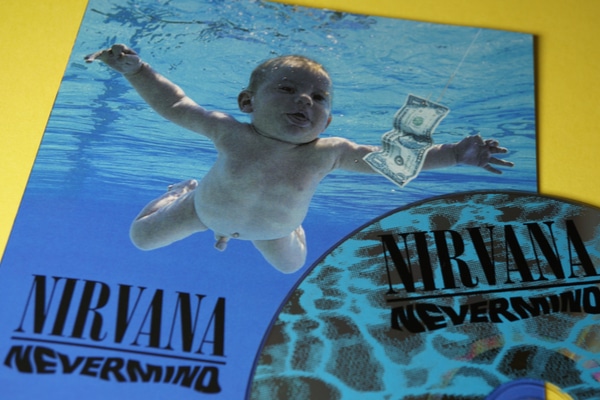 Dave Grohl has hinted that any future album reissues for Nevermind could see a change to the album cover.
This comes after Spencer Elden whose naked body was used for the album cover when it was originally released, sued Nirvana and the Kurt Cobain Estate for "child exploitation". 
Elden is demanding at least $150,000 from each of the parties involved. These include the Nirvana bandmembers as well as the photographer, album designer, along with Universal and Geffen Records.
"something good"
Speaking to the Sunday Times about the cover, Grohl hinted that changes to the album cover on future reissues is now a possibility.
"I have many ideas of how we should alter that cover but we'll see what happens", he said. "We'll let you know. I'm sure we'll come up with something good".
When asked about the recent legal disputes that have arisen. Grohl also added, "I think that there's much more to look forward to and much more to life than getting bogged down in those kinds of things. And, fortunately, I don't have to do the paperwork". 
Nirvana sued for Nevermind cover art
Back in August, Spencer Elden also said that he wanted the cover art redacted for future reissues of the album.
Elden's lawyer Maggie Mabie said that they were "asking for Nirvana to do what Nirvana should have done 30 years ago".
The lawsuit also said that Elden has suffered "long term damages" and "injuries" since the album's release in 1991 and subsequent success.
"Neither Spencer nor his legal guardians ever signed a release authorizing the use of any images of Spencer or of his likeness", the lawsuit stated.
Elden's lawyer had also said,"If there is a 30th anniversary re-release, he wants for the entire world not to see his genitals".
He demanded that that the image of Elden was censored for this subsequent reissue.
A special thirtieth anniversary reissue of the album was also released last month. More on that here.
Last week, Foo Fighters frontman Dave Grohl said that he would love to drum for ABBA. He admitted that he "weapt like a baby" when he heard their new tracks following their return.