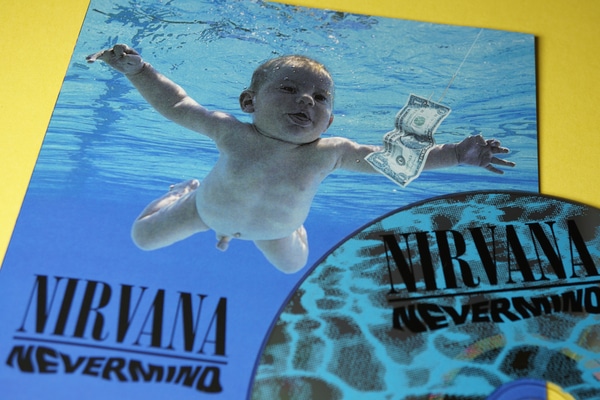 Most people would likely consider it a privilege to be featured on the cover of one of rock's greatest albums. That's not the case with Spencer Elden.
Nirvana's 1991 classic Nevermind features one of the most iconic album covers in rock history. The cover depicts a naked male baby swimming underwater, seemingly chasing a dollar bill on a fishing line.
A man by the name of Spencer Elden claims he is the baby depicted on the album cover, and he's not happy about it.
Citing "child sexual exploitation," Elden is suing Nirvana's surviving members Dave Grohl and Krist Novoselic, along with the estate of the late Kurt Cobain, who took his own life in 1994.
Also being sued are Kirk Weddle, the photographer who captured the image; album designer Robert Fisher; Chad Channing, who was Nirvana's drummer from 1988 to 1990; along with Universal Music and Geffen Records, the labels that released the album.
Elden is demanding a sum of $150,000 from each of the parties involved.
Elden claims that due to being four months old when the photo was taken, he couldn't consent to his image being used on the album cover. He also claims that his legal guardians didn't give their consent either.
In his lawsuit, Elden cites "lifelong damages" and "injuries" caused by his association with the album cover. He accuses the defendants of profiting from "commercial child sexual exploitation of him from while he was a minor to the present day."
The lawsuit accuses Nirvana's members of failing "to take reasonable steps to protect Spencer and prevent his widespread sexual exploitation and image trafficking."
Claims are made that Cobain had initially agreed to cover Elden's modesty with a sticker that would have read "If you're offended by this, you must be a closet pedophile." No such sticker was present when the album was ultimately released.
"Neither Spencer nor his legal guardians ever signed a release authorizing the use of any images of Spencer or of his likeness, and certainly not of commercial child pornography depicting him," reads the lawsuit.
According to the lawsuit, Elden, who is now 30 years old, never received any compensation for the use of his image.
In 2016, at the time of Nevermind's 25th anniversary, Elden hinted at taking legal action.
"It's hard not to get upset when you hear how much money was involved," he said in an interview with Time magazine. "When I go to a baseball game and think about it: 'Man, everybody at this baseball game has probably seen my little baby penis,' I feel like I got part of my human rights revoked."