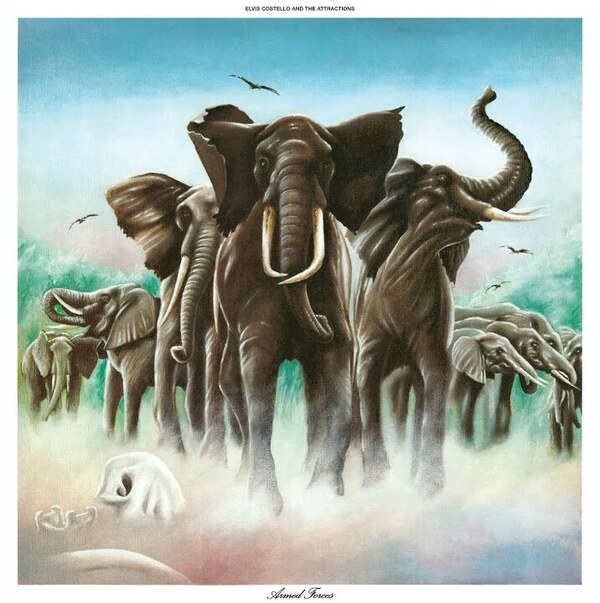 Tonight (August 25th) on the world famous Classic Album at Midnight on Radio Nova we're playing Elvis Costello's Armed Forces.
The album is presented in full with no commercials or interruptions.
Like many of those artists who emerged from Britain's punk scene of the mid 1970s, by the end of the decade Elvis Costello began to spread his musical wings and embrace the growing New Wave moment.
This was evidenced on his third album, 1979's Armed Forces, his second to feature his backing band The Attractions.
With his trademark Buddy Holly glasses, Costello stood out among his punk peers, but his actions were as rebellious as any angry rocker. By the time of Armed Forces he had been arrested for busking at a convention of US record producers (an act which led to him signing a US deal with Columbia Records) and had drawn the ire of Saturday Night Live by performing Radio Radio, a song the show's producers had ordered him not to play due to its criticism of the media.
By 1979, Costello was well established on both sides of the Atlantic, known for both his songwriting and his rebellious antics.
His third album was originally set to be titled 'Emotional Fascism' before Costello settled on Armed Forces.
The propulsive, punky anger of Costello's first two albums is toned down for more poppy arrangements, but lyrically Costello is as caustic as he had been in his early work. Three albums into his career and Costello had expanded his sound as much as The Beatles had at that landmark. The Attractions' keyboardist Steve Nieve earns his fee here, taking centre stage on many of the album's tracks as the piano, organ and synth play a larger role than in Costello's prior albums.
Costello's guitar playing is backed by Nieve's keys, Bruce Thomas's bass and Pete Thomas's drums.
"The confidence and cohesion of The Attractions' playing is the product of 12 months of intense touring," Costello said of his band's brilliance at the time. "The sessions were not without dissent and tension, but we probably never had quite this level of consistent musical agreement again."
The original release of Armed Forces featured 12 tracks. On Side A were Accidents Will Happen; Senior Service; Oliver's Army; Big Boys; Green Shirt; and Party Girl. Side B featured Goon Squad; Busy Bodies; Sunday's Best; Moods for Moderns; Chemistry Class; and Two Little Hitlers.
On the North American release, Sunday's Best was replaced by a cover of Nick Lowe's (What's So Funny 'Bout) Peace, Love, and Understanding.
The first pressings of the album were accompanied by a three song live EP Live at Hollywood High, which featured live takes of Accidents Will Happen, Alison and Watching the Detectives.
Armed Forces was released in the UK on January 5th, 1979. It would peak at Number Two on the UK albums chart and number 10 on the US Billboard chart. It has since been reissued with bonus tracks three times – in 1993, 2002 and as recently as last year's deluxe boxset.
The album is considered one of Costello's finest works. In 2000, Q magazine placed it at number 45 on their list of the 100 Greatest British Albums of All Time. It made Rolling Stone's 500 Greatest Albums of All Time, appearing at number 475 on the most recent list.
Looking back at Armed Forces, Costello would later confess "I was not quite 24 and thought I knew it all."
For a young know-it-all, Costello certainly knew how to craft a classic album.