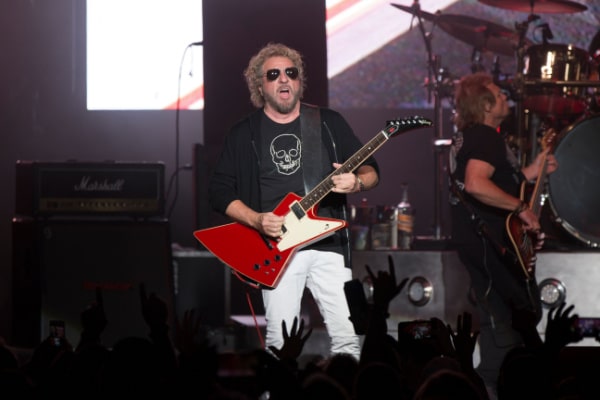 Would you like to listen to the article instead of reading it?
Sammy Hagar has enlisted Chickenfoot bandmate Joe Satriani to join him for his 'Best Of All World' 2024 Tour.
Kicking off on 13 July next year in West Palm Beach, Florida, the tour will finish off in St Louis on August 31, with tickets going on sale this Friday.
These shows will see Hagar and Satriani team up with bassist Michael Anthony, and drummer Jason Bonham, who are both bandmates of Hagar's from The Circle.
Rock band Loverboy will also open the shows for this line up.
"deep into the Van Halen catalogue"
Speaking about this tour, Hagar revealed that fans can expect himself and Satriani to delve "deep into the Van Halen catalogue".
"We're gonna go deep into the Van Halen catalog," Hagar said. "If you're gonna go deep into the Van Halen catalogue, you need Joe Satriani".

Explaining what prompted this tour, Hagar stated that working on the recently released 'Collection II' Van Halen box inspired him to put this together.
He also added that he and Anthony will typically play "five or six Van Halen songs" with the Circle.
However, this time around, Hagar has said that he will play "five or six of my songs", alongside some Van Halen classics and deep cuts.
"When we go out next year in July, it will be almost exactly 20 years since Mike and I did a reunion with Ed and Al in '04," Hagar said. "Mike and I just said, 'We can't wait another 20 years. How long can I even sing these songs? How long can I do this stuff? I just thought it's time to serve the fans".
Elsewhere, Joe Satriani admitted that while learning the Van Halen catalogue is far from easy, but he is up to the the task.
"There are things that are so iconic, you have to nail it," he said. "But if you go deep with what he did live, he never played the same thing twice. He kept evolving, he kept pushing. He'd do the recorded version a little but but then he moved on", he said.
"It's a daunting task when you do the deep dive into what he did," he added. "But it's good to start at the beginning, and then you just learn all his little improvs and you get the idea of what he was trying to do. It's thrilling, it's fun".
Check out more details below.
https://twitter.com/sammyhagar/status/1724450492984488195
Earlier this year, a guitar which was used by Eddie Van Halen for the music video, 'Hot For teacher', sold for $4 million at an auction. More on this here.