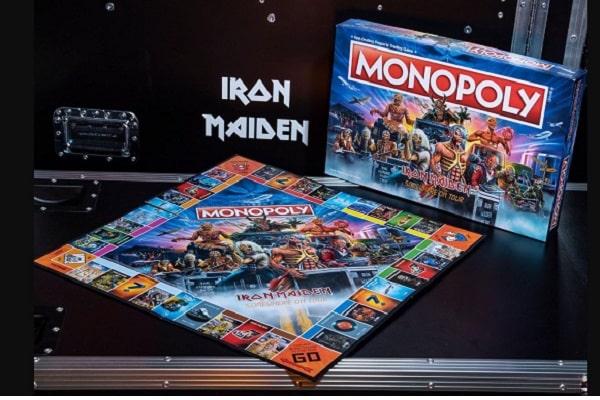 Would you like to listen to the article instead of reading it?
Iron Maiden have launched their very own version of Monopoly, becoming the latest band to launch their own version of the iconic board game.
They have joined forces with Op Games, who have made several versions of Monopoly over the years, including Scooby-Doo, Care Bears, and Original Squishmallows.
Described by manufacturers as the "ultimate piece of tabletop memorabilia", this latest version of the game also allows fans to "relive the prolific English metal band's worldwide live performances as they buy, sell, and trade the most memorable performances over the decades".
Manufacturers have also revealed that they have used an amp stick, flying helmet, an albatross, and Steve Harris' bass. Iron Maiden's mascot Eddie will also feature on the Chance and Community Chest Cards, along with in-game money.
"full of our humour"
Speaking about the game, Iron Maiden's manager Rod Smallwood has stated that their version of Monopoly provides fans with "the full Eddie treatment".
"We're delighted to have been given the opportunity to have Monopoly get the full Eddie treatment", Smallwood said.
He continued, "In true Maiden fashion we commissioned our main tour artist, Akirant, to grace the board and the box lid with some of our most loved Eddies on tour".
"The game is full of our humour (who else would ransom Nicko's pal Sooty?), even the player pieces reflect our unique history (yeah, the impaled albatross!) and the weird and wonderful world we share with our fans and they have come to expect from us!".
Op's CEO Dane Chaplin also added, "We're excited to add another prolific license to our line with the launch of Monopoly: Iron Maiden Edition and provide fans with a new collectible that merges one of the greatest heavy metal bands of all time with Hasbro's timeless Fast-Dealing Property Trading Game".
"The Iron Maiden fandom shares a universal sense of camaraderie, and we love that we can provide them with an engaging game that highlights so many of the band's legendary shows and immaculate album art".
Get your hands on The Monopoly: Iron Maiden edition here.
North America! You can now get your hands on the new Monopoly: Iron Maiden Somewhere on Tour!

Experience the highs and lows of touring life with an epic Maiden-ized board, player tokens and cards. All the fun of being on the road, with none of the jetlag.

Grab it today -… pic.twitter.com/aIb5lOe8Gt

— Iron Maiden (@IronMaiden) June 15, 2023
Iron Maiden's Monopoly launch comes just weeks after the Rolling Stones set up their own iced coffee kit. More on this here.
Iron Maiden were also honoured in Royal Mail stamps earlier this year. They also launched their own colouring book back in 2021.