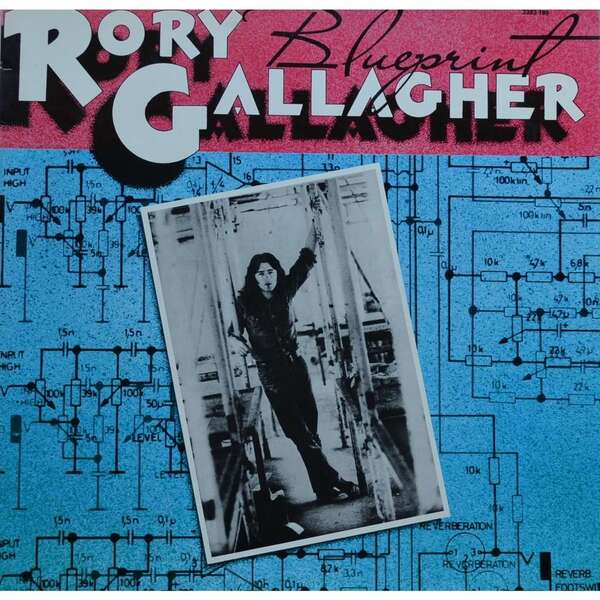 Tonight (March 2nd) on the world famous Classic Album at Midnight on Radio Nova we're playing Rory Gallagher's Blueprint.
The album is presented in full with no commercials or interruptions.
Beginning his musical career as a teenager among Ireland's showbands before forming his own band Taste in 1966, Rory Gallagher embarked on a solo career following that band's breakup after their appearance at the 1970 Isle of Wight Music Festival.
In 1971 Gallagher released his self-titled solo debut album, forming a power trio with Belfast musicians drummer Wilgar Campbell and bass guitarist Gerry McAvoy. The same year saw the release of Gallagher's second album, Deuce, which had a more conventional sound than its predecessor.
By 1972, Gallagher was considered one of the finest musicians working in rock and blues. Melody Maker had named him International Top Guitarist of the Year for 1971, but stardom eluded Gallagher. While he had a strong cult following and was hugely respected by other musicians, he struggled to break into the mainstream. As a live act, however, Gallagher was hugely popular, as documented on his third solo album, 1972's Live in Europe.
For his fourth album, Blueprint, Gallagher replaced drummer Campbell with Welshman Rod de'Ath, who brought with him Lou Martin, the keyboardist from his old group Killing Floor. The power trio was now a power quartet. De'Ath was notably ambidextrous, which allowed him to play complex drum patterns.
Recorded at London's Marquee Studios and Polydor Studios, the Blueprint sessions saw Gallagher branch out musically. Along with his traditional guitar, Gallagher also played 12-string guitar, harmonica, mandolin and saxophone on the album. Along with the addition of Martin's keyboards, this gave Blueprint a more expansive sound than Gallagher's earlier albums. The influences of country and ragtime were added to Gallagher's repertoire. Contrary to its title, Blueprint sees Gallagher at his fully formed best.
Lyrically, Gallagher was inspired by various sources, including his love of trains, the supernatural and a book he had been reading about Florida's Everglades. Along with his original compositions, Blueprint sees Gallagher cover the old Big Bill Broonzy tune Banker's Blues.
In its original release, Blueprint features eight tracks. On Side A are Walk on Hot Coals; Daughter of the Everglades; Banker's Blues; and Hands Off. On Side B are Race the Breeze; Seventh Son of the Seventh Son; Unmilitary Two-Step; and If I Had a Reason. A later CD release would add an alternate version of Gallagher's Stomping Ground and a cover of Roy Head's Treat Her Right.
Gallagher would go on to record more acclaimed albums over the following decade and collaborate with American legends Jerry Lee Lewis and Muddy Waters, along with his idol, British skiffle star Lonnie Donegan. He even came close to joining the Rolling Stones at one point but chose his solo career instead.
We're celebrating Rory Gallagher's birthday tonight by playing Blueprint in full at midnight.