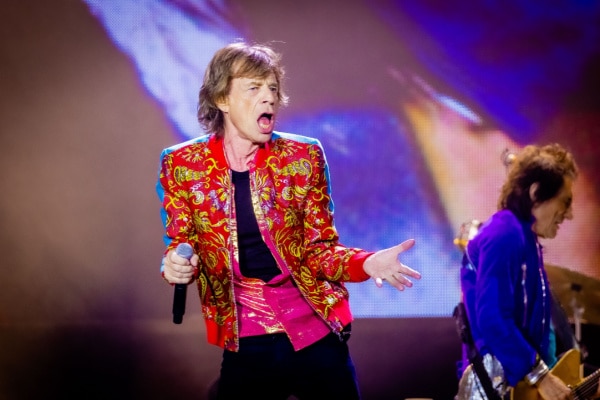 The Rolling Stones have confirmed an upcoming virtual concert for next year.
Taking place on February 2 at 8PM GMT / 8PM Eastern / 8PM Pacific / 8PM AWST (February 3), this concert will celebrate the release of their forthcoming live album 'GRRR Live!', which will arrive the following week (February 10).
Originally recorded in December 2012, this concert will feature a myriad of collaborations including Bruce Springsteen (Tumbling Ice), The Black Keys (Who Do You Love?), Lady Gaga (Gimme Shelter), Gary Clark Jr & John Mayer (Going Down).
The concert will also see the Rolling Stones collaborate with former band member Mick Taylor, who will perform the track 'Midnight Rambler'.
This concert was originally recorded in New Jersey, and this will also be the first time that it has been made available, since it originally aired to pay-per-view ten years ago.
Rolling Stones Album 'GRRR Live!'
This brand new Rolling Stones live album will also be available to watch on RollingStonesNewark.com, via the interactive video company Kiswe's global streaming technology.
Arriving via Mercury Studios, the video has also been described as "the definitive live hits album from the band's career". 
As previously mentioned, the album will include Rolling Stones classics such as It's Only Rock 'n' Roll (But I Like It), Honky Tonk Women, Start Me Up, Gimme Shelter, Sympathy For The Devil and (I Can't Get No) Satisfaction.
Pre order the album for yourself here.
Another album which is set to include a Rolling Stones track is Dolly Parton's forthcoming record.
Arriving at some stage next year, the album is to also feature covers from artists such as Prince, Led Zeppelin, Elton John, Lynyrd Skynyrd, Rolling Stones, along with Journey singer Steve Perry.
Parton also revealed that she reached out to Elton John about featuring on this record.
"And I've sent out a message asking if he would sing with me on it and possibly play the piano", she said. "So if y'all get to see him, say Dolly wants you to sing on her record! So anyway, but I love him, just tell him to enjoy it because it was great fun for me". 
More on this here.