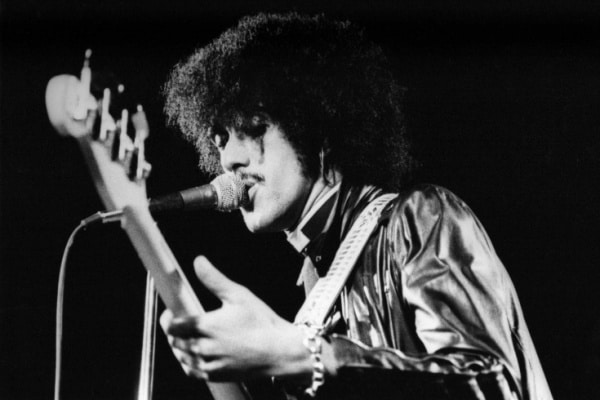 Would you like to listen to the article instead of reading it?
Thin Lizzy have confirmed that a special 50th anniversary reissue for their breakthrough album 'Vagabonds Of The Western World', will be released later this year.
Widely regarded as the band's breakthrough album, 'Vagabonds Of The Western World', featured signature hits including 'The Rocker', 'Whiskey In The Jar', among others.
Originally released on 21 September 1972, 'Vagabonds Of The Western World', was Thin Lizzy's third studio album, and was largely viewed as the band's last throw of the dice, as far as any ambitions of success were concerned.
The previous two years had seen Thin Lizzy record and perform, with limited success.
'Whiskey In The Jar'
However that all turned anew for Phil Lynott and co, with 'Whiskey In The Jar' reaching number 6 in the UK singles chart following its release.
It was also the last album to feature original guitarist Eric Bell.
The album was also the first released by Thin Lizzy, which featured artwork by Jim Fitzpatrick, who created the famous red and black portrait of Che Guevara.
Fitzpatrick would go on to work with Thin Lizzy on albums 'Nightlife', 'Jailbreak', 'Johnny The Fox', 'Black Rose' and 'Chinatown'.
To celebrate its 50th anniversary, this reissue will include deluxe LP and CD rarities, radio sessions, rare photos, unreleased music, extensive sleeve-notes by Mark Blake, and memorabilia.
It will include a 3 CD & Blu-ray featuring Dolby Atmos Mix, 4 LP set & 2 LP Limited Purple Vinyl Set, along with a D2C only 7" single 'Whiskey In The Jar'.
The reissue also contains the album remixed by Dolby Atmos.
'Vagabonds Of The Western World', will be released on November 17. Pre order it here.
Earlier this year, Thin Lizzy also released their 'Live And Dangerous' album on vinyl, to mark its 45th anniversary for Record Store Day. More on this from Nova here.