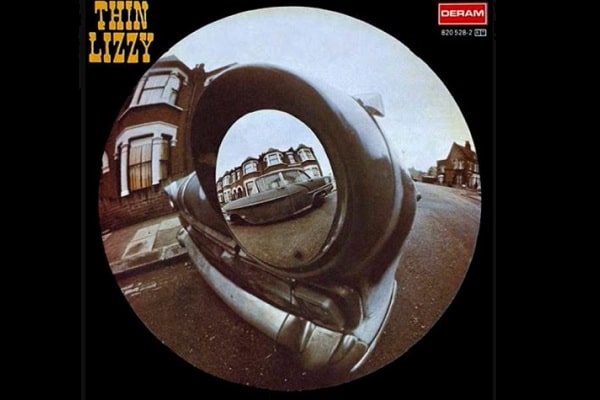 One of Ireland's finest rock groups of all time celebrate a milestone today as Dublin's Thin Lizzy celebrate 50 years since releasing their self-titled debut album.
Before locking-in with a wicked, tight twin-guitar assault and establishing their identity as a hard rock tour de force in the mid-seventies, Thin Lizzy began their run as a proud Irish trio steeped in folk influences. Featuring the imposing Philip Lynott on bass and vocals, along with drummer Brian Downey and guitarist Eric Bell, the young group first appeared on stage in April of 1970.
The following year, after performing relentlessly, Thin Lizzy, armed with a Decca recording contract, entered West Hempstead Studios in England, to lay down the tracks for their self-titled debut LP. Working with producer Scott English, the band was in-and-out of the studio in just over three days. The rushed recording sessions resulted in ten original songs that prominently display the young group's proud Irish roots and a folkish, story-telling charm.
Releasing on April 30th, 1971, Lizzy's self-titled album still offers true, heartfelt Celtic flavour in The Friendly Ranger at Clontarf Castle, the sobering Erie, and the upbeat Return of the Farmer's Son. The boys get into serious rocking form on Look What the Wind Blew In, while the stoic Bell showcases the influence of legendary guitarist Jimi Hendrix on the rapid fire, Ray-Gun.
AllMusic's Eduardo Rivadavia described the album as "surprisingly mellow" and wrote that a number of songs sound "confused and unfinished". However, he described Look What the Wind Blew In as a "hint of things to come", and that the bonus track Dublin from the New Day EP contained "Lynott's first great lyric".
At this stage of the band's career, Phil Lynott had already been on record to say he sees Thin Lizzy becoming even more of a harder, rockier aspect of their persona. Speaking in an interview, the Dublin bass player said "yeah, the music is gonna get more aggressive. You can get that effect maybe by using open chords rather than bar chords – that type of thing".
Eyesore Merch recently announced their upcoming titles from their Rock N' Roll Colouring series, following on from last year's success. The UK based merch company released Motörhead and Judas Priest colouring books and are now set to release Thin Lizzy and Megadeth.
Side one
The Friendly Ranger at Clontarf Castle (Eric Bell, Lynott)
Honesty Is No Excuse
Diddy Levine
Ray-Gun (Bell)
Look What the Wind Blew In
Side two
Eire
Return of the Farmer's Son (Brian Downey, Lynott)
Clifton Grange Hotel
Saga of the Ageing Orphan
Remembering
New Day EP bonus tracks
Dublin
Remembering, Pt. 2 (New Day) (Bell, Downey, Lynott)
Old Moon Madness
Things Ain't Workin' Out Down at the Farm