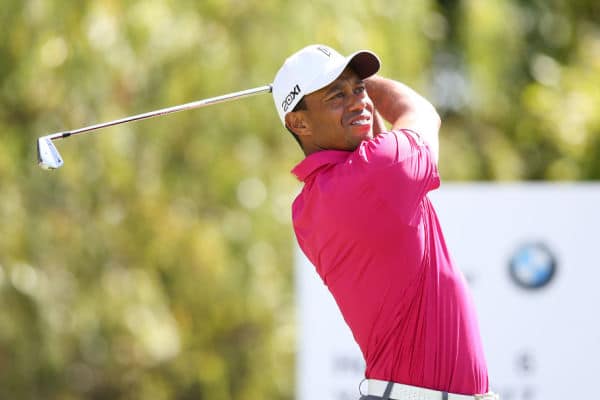 Tiger Woods could be in hot water after footage showed him handing an opponent a tampon, during the Genesis Invitational tournament.
The 15 time major Golf supremo could be about to face major scrutiny, after he handed fellow American Justin Thomas the feminine hygeine product, after outdriving him as the pair walked off the ninth tee.
After receiving the tampon, Thomas laughed, before dropping it to the floor.
"played out and stupid"
This incident involving Woods and Thomas has as expected caused a stir on social media, with many criticising Woods for his conduct.
"Ugh. All the guys think this is hilarious, but the joke is denigrating women. So played out and stupid", Julie DiCaro a lawyer and author tweeted.
Irish Rugby Anna Caplice added,  "If the world generally respected women I would be able to see the funny side of this. But it doesn't. So I don't". 
Dr Ann Olivarius who is a lawyer specialising in equality and anti-discrimination also added this.
"See, it's funny because feminine hygiene products are INHERENTLY emasculating, so when a man makes another man touch a tampon, he's saying "I am a bigger and better man than you, because, GROSS, I made you touch a wrapped Tampax!".
Call me woke. Call me a snowflake. Call me "offended". Whatever. But handing another male golfer a tampon is objectively not funny. It shows the sophistication of a 14 year old schoolboy. @TigerWoods

— Josh Jeffery (@JeffCarnage) February 17, 2023
Woods and Thomas who have had a close friendship, were paired with Northern Ireland's Rory McIlroy for the tournament, as they attempt to make the cut ahead of the weekend at this PGA Tournament.
Tiger Woods shot a final round 69, finishing the first round at two under par. He is five shots behind the leaders Keith Mitchell and Max Homa.
Woods has been involved in several controversial incidents over the years.
In 2021, he apologised for using homophobic language at the third round of the Sentry Tour of Champions in Hawaii. Four years earlier, Woods had pleaded guilty to reckless driving after being found asleep at the wheel.
The US golfer was also injured in a single car accident in LA back in 2021.