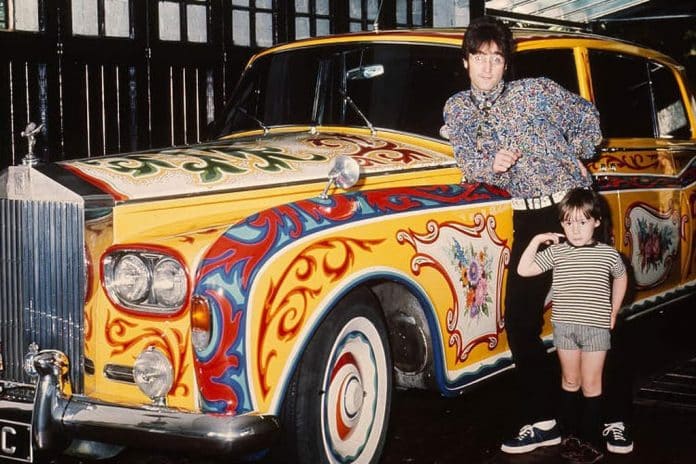 Every day on Radio Nova, just before 11am, we play a couple of songs key to "today in music history" Have a listen! But for now – here's some light reading and watching. April 8th in Music History looks like this.
1967 John Lennon took his Rolls Royce to coachbuilders J.P. Fallon Ltd in Surrey to see about painting his car in psychedelic colours. The cost for having the work done came in at £2,000. (Around £15K today) A custom interior/exterior sound system was also installed as well as a Sony television; telephone and a fridge.
1975 Aerosmith released their third studio album Toys In The Attic.
1994 Electrician Gary Smith who was working at Kurt Cobain's house in Seattle discovered Cobain's body lying on the floor.
1994 The Recording Industry Association of America announced that Pink Floyd's 1973 album The Dark Side of The Moon had become the fourth biggest-selling album in US history.
1998 Rolling Stones guitarist Ronnie Wood was rescued, along with 11 other passengers, in the nick of time, from a boat when an engine caught fire in Rio De Janeiro, the boat exploded, thankfully after all were rescued.
2010 Malcolm McLaren former manager of the Sex Pistols, the New York Dolls and Bow Wow Wow died from cancer aged 64.
2012, It was reported that organizers for the 2012 London Olympics ceremony had recently asked the manager of The Who if legendary drummer Keith Moon would be able to perform at the forthcoming London Olympics Games!!! Keith died in 1978.
2022, Pink Floyd gave the world their first new music in 28 years because of the war in Ukraine. David Gilmour's grandkids are half Ukrainian, his daughter in law is Ukrainian.
April 8th birthdays include Izzy Stradlin of GnR, Julian Lennon, son of john and Cynthia & Matt Healy of the 1975 – born in 89. Not 75!
Don't forget you can now get This Week in Music History every Friday from Nova.ie and Radio Nova.
To subscribe to the podcast, just click here