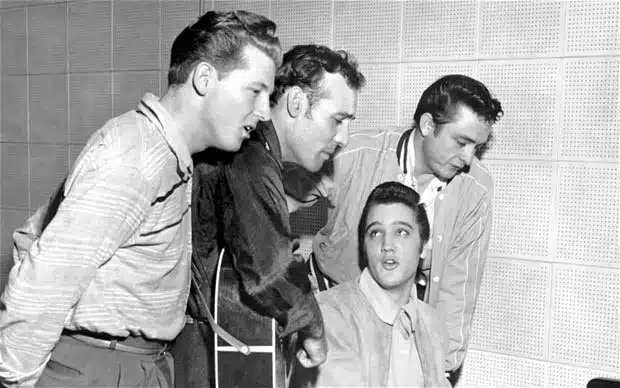 Every day on Radio Nova, just before 11am, we play a couple of songs key to "today in music history" Have a listen! But for now – here's some light reading and watching. June 1st in Music History looks like this.
1959, The first edition of Juke Box Jury aired on the BBC. The shows host, David Jacobs, lead a revolving panel of guests in critiquing the week's top record releases.
1967, David Bowie released his self titled debut studio album, The album's failure cost Bowie his record contract because the company dropped him in April 1968.
1968, Simon and Garfunkel went to No.1 on the US singles chart with 'Mrs Robinson'. Featured in the Dustin Hoffman and Ann Bancroft film 'The Graduate',
1971, The two-room house in Tupelo, Mississippi, where Elvis Presley was born on January 8, 1935 was opened to the public as a tourist attraction.
1981, The first issue of the Heavy Metal magazine Kerrang! was published as a special pull-out by UK weekly music paper Sounds. AC/DC had the front cover plus features on Motorhead, Girlschool and Saxon.
2017, The sale of Jerry Garcia's favourite guitar, 'Wolf', went for auction. Jerry's custom-made guitar raised a total of $3.2m. Here's John Mayer giving 'Wolf' a work out in 2019.
Happy Birthday Stones man – Ronnie Wood, Tom Robinson and Alanis Morrisette!
Don't forget you can now get This Week in Music History every Friday from Nova.ie and Radio Nova.
To subscribe to the podcast, just click here