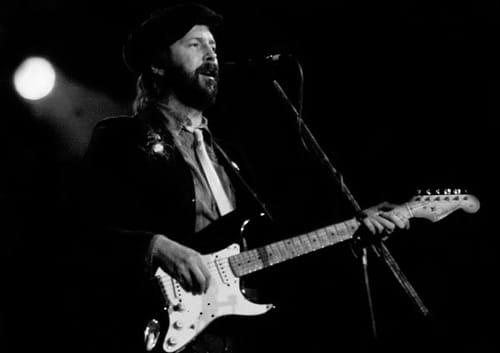 Would you like to listen to the article instead of reading it?
Every day on Radio Nova, just before 11am, we play a couple of songs key to "today in music history" Have a listen! But for now – here's some light reading and watching. March 20th in Music History looks like this.
In 1960, Elvis Presley started his first recordings since being discharged from the US Army.
1968 Eric Clapton Neil Young, Richie Furay and Jim Mesina, were arrested in Los Angeles for 'being at a place where it was suspected marijuana was being used.' Clapton was later found innocent, the others paid small fines.
1969 John Lennon married Yoko Ono in Gibraltar.
1970 David Bowie and Angela Bowie were married at A Registry Office, London.
1971 Paying for it all themselves, The Rolling Stones placed full page advertisements in all the UK's music papers disclaiming any connection with the release of the Decca album 'Stone Age', saying 'in our opinion the content is below the standard we try to keep'
1977 Lou Reed was banned from appearing at The London Palladium because of his punk image.
1991, Eric Clapton's four year old son, Conor, fell to his death from the 53rd story of a New York City apartment after a housekeeper who was cleaning the room left a window open. Inspired the song Tears from Heaven.
1991 Michael Jackson signed a $1 billion (£0.6 billion) contract with Sony, the richest deal in recording history.
2020, Kenny Rogers died. He was a total ledge!
Here he is in 2013 playing to 80,000 in Glasto.
2022, Taylor Hawkins played his final show with the Foo Fighters in Argentina. We just didn't know it at the time.
Don't forget you can now get This Week in Music History from Nova.ie and Radio Nova.
To subscribe to the podcast, just click here