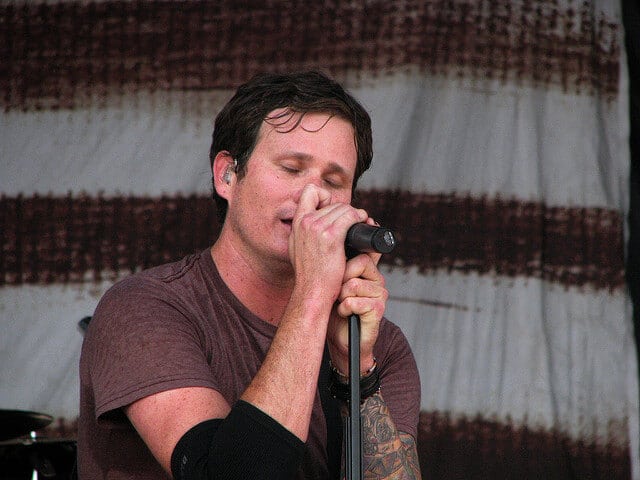 Blink 182's former guitarist & co-front man Tom Delonge opened up to The San Diego Union Tribune about the possibility of reuniting with his band mates – Delonge infamously left the band two years ago.
"It's not like I (permanently) walked away. They have someone doing my job for me (in blink). It's just that I'm so busy. If I wanted to, I could be back (in blink) in a period of days."
He adds of his strong connection to the band, "Blink is in my DNA," he said, suggesting an eventual reunion is likely. "I talk to Travis quite a bit and we try and figure out how and when it's going to make sense."
The band currently consists of bassist and vocalist Mark Hoppus, drummer Travis Barker, and guitarist and vocalist Matt Skiba (Skiba was brought in as Delonge's replacement.)
Founded by Hoppus, guitarist and former vocalist Tom Delonge, and drummer Scott Raynor, the band emerged from the Southern California punk scene of the early 1990s.
Delonge goes on to reveal that he still misses his friends.
"Oh, yeah, I miss the relationship we had, and the growth, and the crazy times," DeLonge said. "But I don't miss the grind. Like, every band has a grind, so you have to love it so much that you tolerate the grind. And, being on tour was such a grind."
He added, "I didn't love it enough; it was too much disruption for me. And playing the same songs every night and moving your body (the same way) with your guitar, it felt like you were 'vogue-ing,' like you were faking it. 'Here's the same song again — 1, 2, 3, 4!' I felt like a robot."
"That's when I said: 'I need a break.'
Delonge didn't leave it all behind him however, from a business perspective, DeLonge never left blink, "I still own the band". The former front man and guitarist explained that he, Hoppus and Barker "own everything" blink-related.
Tom has spent his time since leaving he band exploring another of his passions, UFO's. Even recently being honoured as UFO Researcher Of The Year by UFO website/YouTube channel Open Minds TV.
Tom has made no secret of his belief that 'the truth is out there', regularly speaking out about aliens and conspiracies and even claiming he's encountered beings from another planet first-hand.
Ahead of the U.S Presidential election in October, he hit the headlines as a series of emails he had with Hilary Clinton Campaign Chair John Podesta were leaked. In the emails Delonge appeared to be securing meetings with Podesta, with the eventual hope of getting the classified Government files on Roswell and other such UFO conspiracies uncovered.
Blink-182 are set to tour the UK's arenas this summer, kicking off July 3rd in Cardiff.
Picture Credit: Alexis Mire