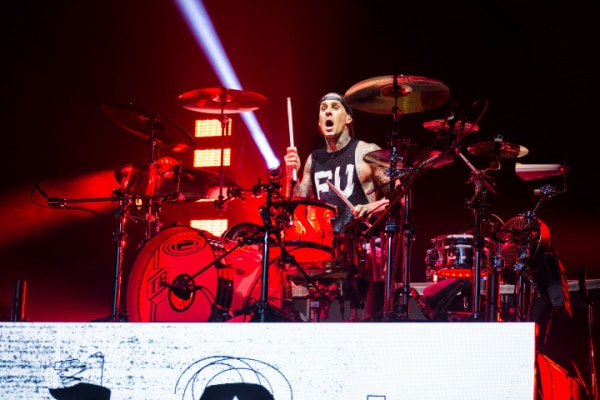 Would you like to listen to the article instead of reading it?
Blink-182's Travis Barker has paid tribute to his three late friends on the 15th anniversary of a plane crash they were in together.
In September 2008, Barker was travelling in a private plane from Columbia, South America to Los Angeles, when the aircraft experienced an emergency at take-off.
Following an investigation, it was found that tires had burst, forcing the pilots to abort the flight. The plane skidded across the runaway, before bursting into flames.
The plane crash led to the deaths of Barker's security guard Charles 'Che' Still, his assistant Chris Barker, along with both pilots.
Barker's friend Adam 'DJ AM' Goldstein died from an overdose, a year on from the accident.
Travis Barker Pays Tribute
Paying tribute to his friends, Travis Barker wrote via his Instagram stories, "Rest In Peace", before adding their names with a dove emoji, "Lil Chris, Che, DJAM".
Along with prayer hand emojis, Barker also wrote, "Gone but never forgotten".
Travis Barker also reposted a photo of himself and Lil Chris in tribute to his memory.
(Travis Barker Tribute To His 3 Friends via his Instagram Story)
Barker spent three months in hospital, following the accident. He suffered third degree burns to 65% of his body, requiring 26 surgeries.
Speaking of Barker, his band Blink-182 announced the release of their new album, 'One More Time…', which will arrive on October 20. The band had been teasing this album for weeks.
The album comes after Blink-182 were forced to call off some recent shows, after Barker had to briefly leave the tour to be with his wife Kourtney Kardashian, who was admitted to hospital.
More on this from Nova here.