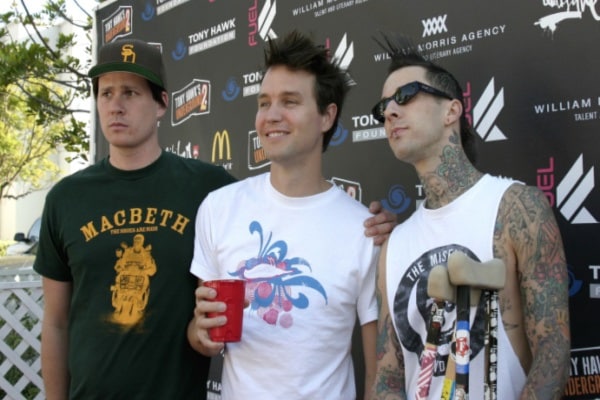 Would you like to listen to the article instead of reading it?
Blink-182 have confirmed the date for the release of their much anticipated album 'One More Time…'.
Arriving on October 20, 'One More Time…' will include all original Blink-182 bandmembers, Travis Barker on drums, bassist Mark Hoppus, as well as lead singer Tom DeLonge.
ONE MORE TIME… the new album from blink-182 is out October 20th. "ONE MORE TIME" the new song, is out this Thursday, September 21st at 7AM LA / 10 AM NY / 2PM LONDON. Watch the full trailer on YouTube: https://t.co/KEOVT2Vmwb pic.twitter.com/S4jb1di3HD

— blink-182 (@blink182) September 18, 2023
The band had been hinting about new music for weeks on social media, sharing a series of posters on their platforms.
News of this album will come as some crumb of confort for fans, after they were forced to cancel recent shows as part of their tour, when Travis Barker flew back to America to be with his wife Kourtney Kardashian, who was rushed to hospital.
"Due to an urgent family matter, Travis has had to return home to the States", the message read. "The Glasgow, Belfast, and Dublin shows are being postponed. More information in regards to his return to Europe and rescheduled dates will be provided as soon as available".
'One More Time…'
Confirming news regarding their new album, Blink-182 released a trailer video, showing clips from an interview they did with Apple Music's Zane Lowe.
The clip which you can check out below, also shows new tracks from this album being teased, including 'Anthem Part 3', 'You Don't Know What You've Got' and the title track 'One More Time'.
Blink-182 can also be heard speaking about Mark Hoppus' cancer diagnosis last year, adding that this inspired Tom DeLonge's return to the fold.
"I remember telling my wife, 'I don't think I'm ever going to play music again, I don't think I'm ever gonna tour again,'" DeLonge explained. "Until Mark told me he was sick, and then I was like, that's the only thing I wanted to do".
The interview is set to be released to the public on September 21.
Hoppus was diagnosed with stage 4 cancer, 4-A diffuse large B-cell lymphoma in 2021. However, he revealed the good news that his scan last year came back "all clear".
More here.