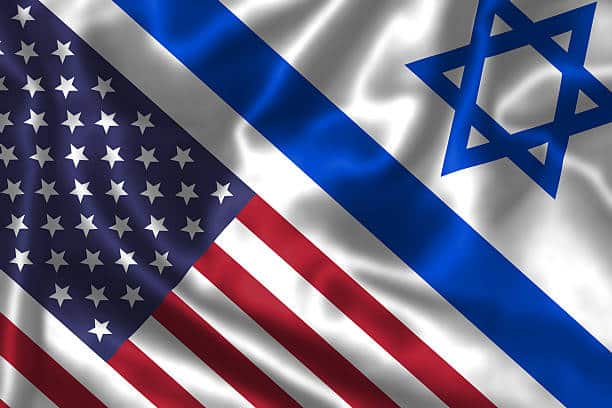 The US Secretary of State says Donald Trump remains 'very committed' to the Middle East peace process.
It comes ahead of a speech by the U.S President later, in which he's expected to recognise Jerusalem as Israel's capital.
The move is sparking fears it could lead to protests by enraged Palestinians.
President Donald Trump will make a significant change to U.S foreign policy later by saying he'll formally recognise Jerusalem as Israel's capital.
It is expected the American embassy will eventually re-locate from Tel Aviv to the 'Holy City' to further emboss the Presidents remarks.
The spokesman for the Turkish president, Recep Tayyip Erdoğan, said the U.S was 'plunging the region and the world into a fire with no end in sight'.
Meanwhile, Palestinian demonstrators have been burning images of the U.S President, who's planning to move the American embassy to the disputed city.
The Palestinian president's spokesman is warning against the move:
However the U.S. Secretary of State, Rex Tillerson, says President Trump remains on board with the peace process…
Chairperson of the Fianna Fáil Parliamentary Party and Chair of the Committee on Foreign Affairs, Trade & Defence Brendan Smith has expressed deep concern about an expected announcement by President Trump to recognise Jerusalem as the capital of Israel.
Deputy Smith commented, "This is an exceptionally sensitive matter as Jerusalem is home to many sacred sites.  I am deeply concerned about President Trump's expected decision as I believe it flies in the face of efforts to progress peace talks and will only serve to inflame tensions in the region.
"Fianna Fáil has long held the view that a two-state solution is the best route forward based on a fully sovereign state of Palestine, independent of and co-existing with Israel. Unfortunately, I believe that the announcement expected today will put the two-state solution further beyond reach.
"Palestinians believe that East Jerusalem should be the capital of any future independent state and this move, coupled with the ongoing expansion of illegal settlements and flagrant breaches of international law, is an affront to Palestinians and will undermine efforts to bring an end to this long-running conflict.
"My only hope now is that this expected decision by President Trump will focus minds and spur the European Union and the international community into redoubling their efforts to find a sustainable resolution to this conflict".