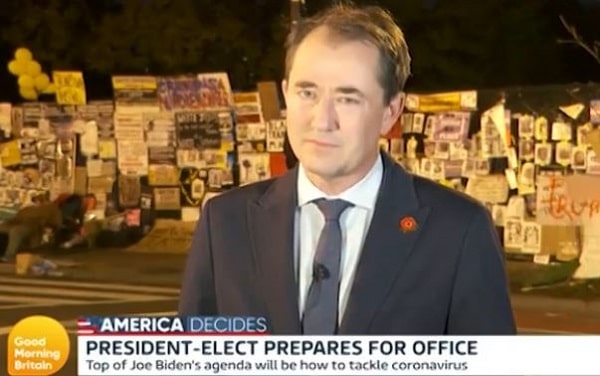 Good Morning Britain apologises to its viewers after an explicit message appeared on screen today. Reporting live form Washington, reporter Richard Gaisford was discussing the recent presidential election and Trump's refusal to concede defeat to Biden.
While presenting his updates, Richard is standing nearby a wall of protest signs, one of which caught the viewer's eye. Noticing the blunder, the cameraman switches the angle. Although, it was too late and had been seen by millions of viewers.
A white sign, with glaring red letters spelling "F*** TRUMP," is visible in the background of the report.
Richard appeared later, but this time in front of a different set of signs and apologised for the earlier blunder.
The reporter went on to say: "Apologies if you saw something inappropriate on an earlier broadcast."
Good Morning Britain viewers were quick to comment on the error, taking to social media to voice their excitement.
One viewer tweeted: "Seeing a giant "F*** Trump" banner live on GMB has made my morning."
Another said: "I think they should have moved the camera a bit," while a third user was left wondering "Erm shouldn't you blur a certain word there.…"
"F*** trump!!! Brilliant start by GMB on Monday morning," added another user.
Another joked: "You can see some of the anti-Trump protests here. Yes we can, particularly if we look over your left shoulder."
This morning's blunder came as Richard gave updates on Trump's refusal to concede defeat to Biden. With reports of the president's wife Melania urging him to accept, Richard reports that his sons, Donald Jr. and Eric are urging him to fight on. "They are trying to raise cash for him for a court case that starts today," he said.
Former Vice President Joe Biden beat Donald Trump to become the 46th President of the United States of America. He has stated he will not hesitate to remove what he called "trespassers".