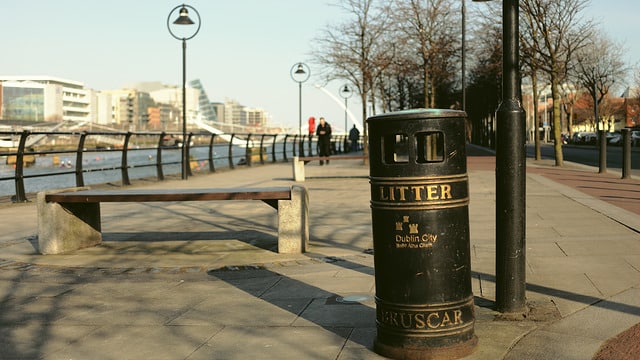 The survey results are in and some towns in Ireland are being named and shamed for their litter while others are receiving well deserved praise.
The towns of Tullamore, Leixlip and Roscommon came out top of the Irish Business Against Litter (IBAL)  Survey while it showed that the environs of Dublin Airport had improved since being deemed a black spot.
Not scoring so well on the list was the Limerick area of Galvone, along with the Dublin North Inner City and Cork North.
Of the country's tourist attractions, 80% were found to be clean although The Cliffs of Moher, Muckross House in Killarney, The Guinness Storehouse and Newgrange were found to have small amounts of litter.
Over 90% of rural towns surveyed were deemed clean, while Dublin, Cork and Galway city centres all scored well in the rankings.
The survey was carried out An Taisce which assessed litter levels in 40 towns and cities on behalf of IBAL.
"In the 16 years we have been conducting these surveys, this is possibly our best result,"
says Conor Horgan of IBAL. "Across the board we have seen improvements. The news is all
the more positive given the importance of how we present our country over the summer
months, when we attract over 40% of our visitors. Also satisfying is the pristine state of the roads around Dublin Airport, which help form a first impression for many of these visitors."
Tullamore was praised by the inspectors for having numerous top spots in the city including Lloyd Town Park, "spotless" O'Connor Tullamore Stadium and Patrick Street "looking very well with so much colourful planting in the form of hanging baskets, ornamental trees and large planter boxes." All the approach roads were also top ranking.
While no area was brandished a litter blackspot, Galvone in Limerick City was again
seriously littered, while Dublin North Inner City and Cork City North were littered.
According to RTÉ, Minister for the Environment, Denis Naughten welcomed the survey but expressed concern that there are still litter issues in Limerick city, Dublin's North Inner City and Cork City North.
Mr Naughten said he was pleased to see that the respective Councils had evidently taken steps to improve these areas, but again urged them to increase their efforts.
Photo Cred: Tobias Abel