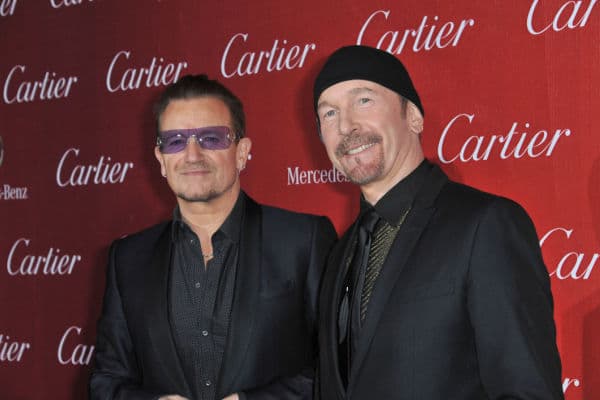 Would you like to listen to the article instead of reading it?
U2 have confirmed 17 dates for their much anticipated Las Vegas residency at the MSG Sphere.
The residency titled U2:UV Achtung Baby Live At Sphere, will run across September and October 2023.
Having previously confirmed that they would perform at the venue on September 29, 30 October 5, 7 and 8, U2 have confirmed 17 concert dates for this residency.
U2:UV ACHTUNG BABY. LIVE AT SPHERE, LAS VEGAS. FALL 2023.

SEP 29 & 30. OCT 05, 07, & 08.https://t.co/JseHnTMERG paid subscribers have first access to tickets through Ticketmaster Request, open now through Wednesday, April 26 at 7AM PT.

Register for Ticketmaster Verified Fan… pic.twitter.com/sLXF69SozR

— U2 (@U2) April 24, 2023
You can check out these dates in full below.
"completely unprecedented"
Ahead of these dates, U2 have also released a promotional video, which includes a voiceover from Willie Williams, the band's long time producer.
"The sphere is completely unprecedented", Williams says in the video. "You won't see speaker stacks hanging from the ceiling because the entire building is a speaker and a video screen".
Williams continues, "U2 haven't played live since December 2019 and we need to get back on stage and see the faces of our fans again," say Bono, The Edge and Adam Clayton. "And what a unique stage they're building for us out there in the desert… We're the right band, Achtung Baby the right album, and Sphere the right venue to take the live experience of music to the next level…". 
"That's what U2's been trying to do all along with our satellite stages and video installations, most memorably on the Zoo TV Tour, which ended in Tokyo 30 years ago this Fall". 
"Sphere is more than just a venue, it's a gallery and U2's music is going to be all over the walls," adds The Edge. "The beauty of Sphere is not only the ground-breaking technology that will make it so unique, with the world's most advanced audio system, integrated into a structure which is designed with sound quality as a priority; it's also the possibilities around immersive experience in real and imaginary landscapes".  
"In short, it's a canvas of an unparalleled scale and image resolution and a once-in-a-generation opportunity. We all thought about it and decided we'd be mad not to accept the invitation". 
These words also echo what band members from Bono and The Edge, who spoke to Zane Lowe earlier this month. Check out what they said here.
U2 Live At The Sphere 2023 Dates 
Sep 29: Las Vegas Sphere at The Venetian, NV
Sep 30: Las Vegas Sphere at The Venetian, NV
Oct 05: Las Vegas Sphere at The Venetian, NV
Oct 07: Las Vegas Sphere at The Venetian, NV
Oct 08: Las Vegas Sphere at The Venetian, NV
Oct 11: Las Vegas Sphere at The Venetian, NV
Oct 13: Las Vegas Sphere at The Venetian, NV
Oct 14: Las Vegas Sphere at The Venetian, NV
Oct 18: Las Vegas Sphere at The Venetian, NV
Oct 20: Las Vegas Sphere at The Venetian, NV
Oct 21: Las Vegas Sphere at The Venetian, NV
Oct 25: Las Vegas Sphere at The Venetian, NV
Oct 27: Las Vegas Sphere at The Venetian, NV
Oct 28: Las Vegas Sphere at The Venetian, NV
Nov 01: Las Vegas Sphere at The Venetian, NV
Nov 03: Las Vegas Sphere at The Venetian, NV
Nov 04: Las Vegas Sphere at The Venetian, NV