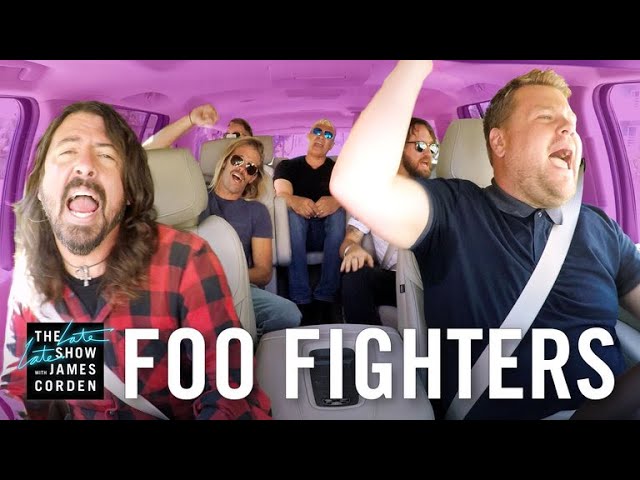 James Corden's Carpool Karaoke is known for being feel-good, fun-filled entertainment. But many Foo Fighters fans were surprised to see the rockers appear on the segment of The Late Late Show last month, with some claiming they were "selling out". 
And it turns out that the band didn't have as good a time as they were expecting to. Speaking to NME, the band said that they found the experience "a little uncomfortable".
The band belted out all the classics such as 'All My Life', 'Learn To Fly', 'Best Of You' and recent single 'The Sky Is A Neighbourhood' from the new album 'The Sky Is A Neighbourhood'.  
"By hour three in dude's car it got less fun," guitarist Pat Smear said when speaking to NME. "It kinda went on. When we stopped at Guitar Centre, that felt like we were done, but it was like 'this is halfway'."
Front-man Dave Grohl said he didn't doubt that Corden is a real music lover, but that he did feel "a little uncomfortable" about being made to sing his own songs. But surely he knew that was the deal, right?
Also speaking to NME Grohl said, "Oh he definitely is [a music lover]," "And he's a very nice guy. But y'know, I don't mind singing my own songs at Glastonbury or The O2 but if I had to sing you a song right not I'd be too embarrassed." Probably shouldn't have signed up for Carpool Karaoke then Dave.
Smear said that "singing other people's songs would have been easier", to which Grohl added: "I could do that all day. We did The Ramones, and Rick Astley, but they didn't use it. I don't know why."
Foos must have never watched a single episode of the segment if they weren't expecting to sing their own songs.
This weekend the band will perform at their very own festival, 'Cal Jam' – along with Liam Gallagher, Wolof Alice, The Kills, Queens Of The Stone Age and loads more. It takes place at Glen Helen Regional Park at San Bernardino in California, tomorrow 7th October.
Photo Credit: Raph_PH