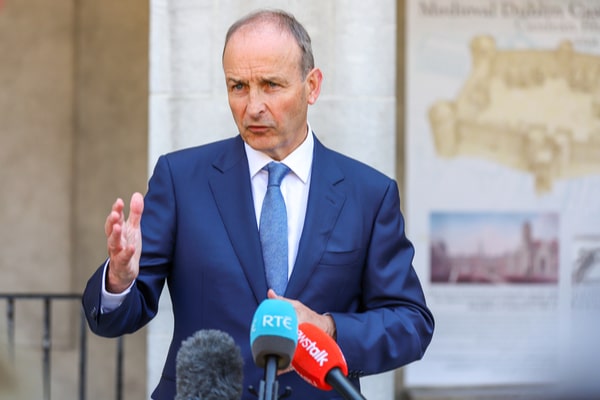 Taoiseach Micheál Martin has blasted the unvaccinated.
He said that it is "clear as day" that they are putting other people's lives at risk. Mr Martin said those who have not received the jab are having a "disproportionate" effect on Ireland's health system and ICU beds.
Following the rise in cases over the last few months, Taoiseach Micheál Martin brought back several restrictions regarding the hospitality sector and household visits last week. This came following advice from NPHET.
Despite his criticism of the unvaccinated, the Taoiseach did reveal that thousands of people received their first and second jabs against Covid-19 last week.
"We had 10,000 people come forward last week for first doses and the same number for second doses", he said.
"taking real risks"
While stating that vaccines are a key way out of this pandemic, Mr Martin also stated that new antiviral treatments are expected in 2022.
"We have done well, relative to others. There is a very good strong booster campaign being administered now across the country", the Taoiseach said.
"It's really important now that people take up their vaccinations, even those who haven't taken a first or second dose, it's very important that they consider taking their first and second dose, and that people take your booster when offered". 
The Fianna Fáil leader did have a message to those unvaccinated. He said that they are "taking real risks".
Mr Martin continued, "Because we know now that the unvaccinated have a disproportionate impact on our health services, on our ICU beds, and it's as clear as daylight that you're taking real risks if you don't get vaccinated, in terms of your own personal health and the health of others". 
"So vaccination is key, but also the emergence of antivirals now will be very important early in the new year, in terms of helping to treat people more effectively than, perhaps, earlier in the pandemic".
He added, "And there will be a child vaccination programme which should commence early in the new year". 
Micheál Martin also said that the Government are trying to implore communities that may vaccinate those that are hesitant to get the jab.