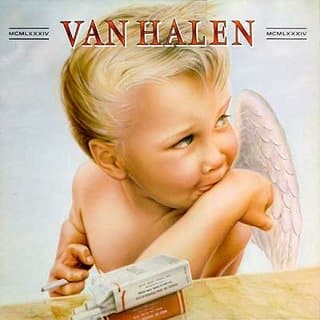 1984 (written as MCMLXXXIV on the album's front cover) is the sixth studio album by American  band Van Halen. It remains their most successful album in terms of sales, with 10 million copies shipped in the United States, and U.S. chart performance.
1984 reached number two on the Billboard 200 album chart and remained there for five weeks, behind Michael Jackson's Thriller, on which Eddie Van Halen played guitar. It produced several memorable singles, including "Jump", "Panama" and "I'll Wait", and "Hot for Teacher". 1984 was the last, full-length Van Halen album to feature the band's original frontman David Lee Roth until 2012's A Different Kind of Truth and the final full-length album with all four original members.
As the whole wide world would learn before 1984 — the year — was even in the books, deep rifts had, in fact, been gradually destabilizing Van Halen's foundations for quite some time. While the loudest whispers referenced growing disagreements over recording practices and creative direction (most centering on longtime producer Ted Templeman), the bigger-picture problem was a widening personal and professional gulf between Eddie Van Halen and David Lee Roth.
The iconic cover was created by graphic artist Margo Nahas. It was not specifically commissioned; Nahas had been asked to create a cover that featured four chrome women dancing, but declined. Her husband brought her portfolio to the band anyway, and from that material they chose the painting of a cherub stealing cigarettes that was ultimately used. The model was Carter Helm, who was the child of one of Nahas' best friends, who she photographed holding a candy cigarette. The cover, featuring as it did the smoking cherub, was 'censored' in the UK by the addition of a sticker that obscured the cigarette in the cherub's hand, and the packet of cigarettes.
1984 is notable for being one of the best-selling hard rock albums of all time, sharing lofty heights with company like AC/DC, Def Leppard, Guns N' Roses, Led Zeppelin and Metallica.
But perhaps the most noteworthy attribute of 1984 is that it is likely the only Diamond-certified (sales of 10 million or more) album that was recorded entirely in a home studio. [Boston's debut album is a close contender, but one of its songs was recorded in a pro studio.] Of course, the facility now known as 5150 Studios is not the ordinary home studio. From the very beginning, 5150 was a fully professional facility, starting off as a 16-track studio equipped with classic gear that, while it seemed outdated during its time of installation in 5150, was more than up to the task of capturing Ed's ideas in a polished, finished state that was suitable for release.
In 2004, Roth discovered that the rest of the band had renegotiated a more preferential royalty rate with Warner Bros. for all releases made during his time as lead singer, giving them a royalty rate five times greater than his. It is likely that the removal of Michael Anthony from the songwriting credits results from Roth's claim to have a greater claim of the band's song publishing for this album, because he had been cut out of the separate royalty renegotiation with Warner Bros. Records, which according to Roth happened around 1994.
Track listing
Side one
No.
Title
Length
1.
"1984" (instrumental)
1:07
2.
"Jump"
4:04
3.
"Panama"
3:32
4.
"Top Jimmy"
2:59
5.
"Drop Dead Legs"
4:14
Side two
No.
Title
Length
6.
"Hot for Teacher"
4:42
7.
"I'll Wait" (Van Halen/Van Halen/Anthony/Roth/Michael McDonald)
4:41
8.
"Girl Gone Bad"
4:35
9.
"House of Pain"
3:19