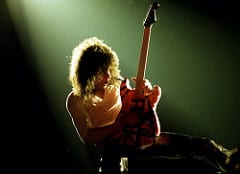 Big hearted rock legend Eddie Van Halen has donated 75 guitars to schools with low incomes in the U.S.A. The co-founder of American hard rock band Van Halen, sent the guitars to Mr. Holland Opus Foundation.
The U.S Foundation "keeps music alive in schools by donating musical instruments to under-funded music programs nationwide…inspiring creativity and expression through playing music." The Mr. Holland's Opus Foundation delivers 1,800 instruments each year, serving more than 10,000 kids.
Born in the Netherlands, Van Halen moved with his family to Pasadena California in 1962. Van Halen and his brother, Alex began piano lessons at a young age and started a band together in the fourth grade. His first gig was in school and it was during this time that his love for music really began. Through the Opus Foundation Van Halen is hoping to give the gift of music to children who do not have the same opportunities open to them that he had. It was important to him to share music and not just money.
"It was very difficult at first to find a charity that (takes guitars). They all just wanted money."
Explaining why he made the donation, Van Halen told CNN, "My whole life has been music. I could not imagine anything else."
"Music is such a necessity. It touches people's souls," the guitarist added, "Music is the universal language to me. It transcends everything.
The rock legend has made his career from music and his star is on the Hollywood Rock Walk located in front of Guitar Centre's store on Sunset Blvd., for his work with electric guitars, next to Slash and Jimi Hendrix.
He added, "It really hit me when I graduated high school, you sign everybody's yearbook and everybody asks you, 'So what college are you going to?'" By then, Van Halen had been in a band with his brother Alex since the fourth grade. "Hey, Al," Eddie remembered saying, "I think we better stick to what we know."
Fast forward several decades, and funding for school music programs has dwindled – sometimes to nothing. "It's a must," Van Halen said. "It has to be taught."
Picture Credit: K. Todd Storch