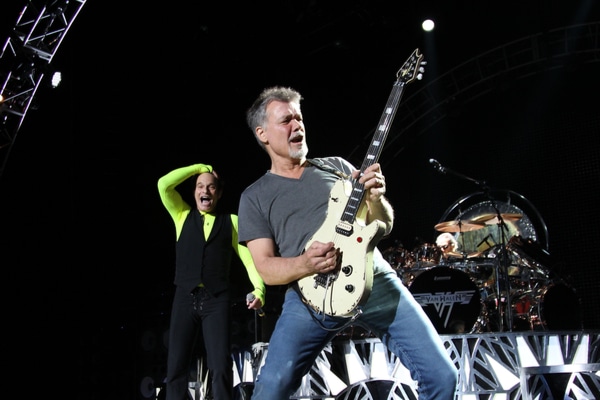 Late rock legend Eddie Van Halen reportedly left a generous donation worth at least $1 million to a US based music education charity.
The charity in question is called Mr Holland's Opus Foundation. It was given this title from the character from Mr Holland's Opus, who was played by Richard Dreyfuss.
This organisation also provides school-aged children from low income backgrounds the chance to enjoy more education. They also offer access to musical instruements, along with other avenues.
Eddie Van Halen "meant the world to us and to his fans"
MHOF have since release a statement, confirming that Eddie Van Halen made this generous donation to the charity.
While they did not specify how much, they did confirm that this seven figure "transformative" amount would provide a "significant [increase to] the nonprofit's capacity to support music programs across the country". 
"Eddie's support and friendship over the years meant the world to us and to his fans. His passion for music and our work created a strong bond, which is evident in his extraordinary bequest", the organisation's CEO Felice Mancini said.
Mancini also added, "To know how much our foundation meant to Eddie is intensely humbling and gratifying to all of us – and we know that Eddie's family is confident that his powerful legacy and values live on through our efforts".
It was Eddie that made me pick up my instrument for the first time and led to my life as a musician. Now his amazing spirit and generosity will change lives of kids all over the country and transform our organization. #SoThisIsLove Indeed! #EVH @WolfVanHalen https://t.co/ro81sSru3N

— Christopher Lennertz (@CLennertz) April 20, 2022
"important to my father"
Eddie Van Halen passed away in 2020. But his son Wolfgang has promised to continue his father's support for the charity. This support also saw Eddie Van Halen donate as many as 75 guitars to the charity back in 2012.
"Mr. Holland's Opus Foundation and the work they do for music education was always something that was important to my father", Wolfgang said.
"I am incredibly proud to help facilitate this donation as he wished. Mr. Holland's Opus are champions for our musicians of the future. It is my privilege to continue supporting that mission and carrying on my pop's legacy". 
Meanwhile, Joe Satriani had revealed that talks had started between himself, Alex Van Halen and David Lee Roth over a possible tribute tour in Eddie's honour. More on that here.