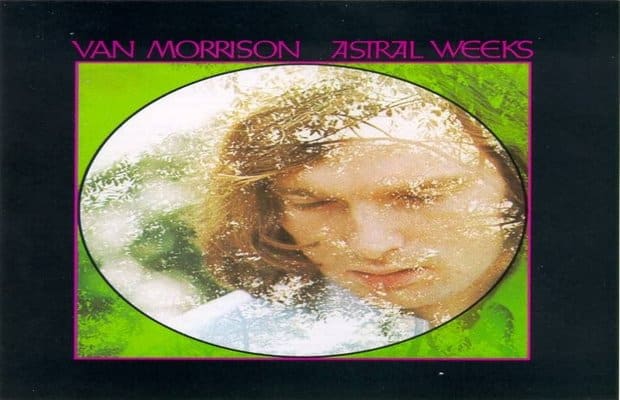 Astral Weeks is the second solo album by Northern Irish singer-songwriter Van Morrison, released in November 1968 on Warner Bros. Records. Widely acclaimed, it has had an enduring impact on both listeners and other musicians.
Recording took place at Century Sound Studios in New York City during three sessions in September and October 1968, although most participants and biographers agree that the eight songs were culled from the first and last early evening sessions. Except for John Payne, Morrison and the assembled jazz musicians had never played together before and the recordings commenced without rehearsals or lead sheets handed out.
The cover art, music and lyrics of the album portray the symbolism equating earthly love and heaven that would often feature in Morrison's work. With a blending of folk, blues, jazz, and classical music, it was a complete departure from his previous pop hit, "Brown Eyed Girl" (1967). Astral Weeks is often referred to as a song cycle or concept album with lyrics described as impressionistic, hypnotic, and stream-of-consciousness.
It received critical acclaim immediately upon its first release and subsequently has been placed on numerous widely circulated lists of best albums of all time. In 1987, as part of their 20th anniversary, Rolling Stone magazine ranked it number seven on "The 100 Best Albums of the Last Twenty Years". The 1995 Mojo list of the 100 Best Albums ranked it as number two, and it ranked nineteenth on Rolling Stone magazine's list of The 500 Greatest Albums of All Time in 2003. Astral Weeks became and remains a cult favourite, despite the fact that it failed to achieve significant mainstream sales success for decades; after 33 years, it finally achieved gold in 2001.Music historian Andrew Ford compared its musical sophistication and commercial success to classical music – "neither instant nor evanescent: Astral Weeks will sell as many copies this year as it did in 1968 and has every year in between".
Forty years after the release, Morrison performed the songs on the album live during two concerts at the Hollywood Bowl in November 2008. Other concerts followed with a CD and DVD from the Hollywood Bowl performances released in 2009. Warner Bros. Records had not promoted the album with touring when it was released in 1968.
At the beginning of 1968, Van Morrison became involved in a contract dispute with Bang Records that kept him away from any recording activity. This occurred after the sudden death of the label's founder Bert Berns; born with a congenital heart defect, Berns experienced a massive heart attack and was discovered dead in a New York hotel room on 30 December 1967. Prior to Berns' death, he and Morrison had experienced some creative difficulties. Berns had been pushing Morrison towards a more pop-oriented direction, while Morrison wanted to explore newer musical terrain. As a result, Berns' widow, Ilene Berns, held Morrison and this conflict responsible for her husband's death. Years later she would downplay this scenario but Morrison's ex-wife Janet (Planet) Minto has gone on record describing her initial subsequent vindictiveness towards Morrison.
Upon Bert Berns' death, Ilene Berns inherited the contracts of Bang Records. Morrison's annual option on his recording contract was also due less than a week after Berns' funeral. Legally bound to Bang Records, Morrison was not only kept out of the studio, but he also found himself unable to find performing work in New York as most clubs refrained from booking him, fearing reprisals. Ilene Berns then discovered that her late husband previously had been remiss in filing all the appropriate paperwork to keep Morrison (still a British citizen) in New York. She contacted Immigration and Naturalization Service and attempted to have Morrison deported. However, Morrison managed to stay in the U.S. when his then-girlfriend Janet (Planet) Rigsbee agreed to marry him. Once married, Morrison and his wife moved to Cambridge, Massachusetts, where he found work performing in the local clubs. Morrison began performing with a small electric combo doing blues numbers, songs from Blowin' Your Mind! and from Morrison's Them band days. Two of the musicians soon left but Morrison did retain the bassist, Tom Kielbania, a student at the Berklee School of Music. At that juncture, Morrison decided to try an acoustic sound, and he and Kielbania began performing shows in coffee houses in the Boston area as an acoustic duo with Morrison playing guitar and Kielbania on upright bass. Before this, Morrison had primarily recorded and performed with electric musicians. The acoustic medium would provide him "greater vocal improvisation and a freer, folkier feel".
Later, Kielbania heard jazz-trained flautist John Payne for the first time while sitting in on a jam session. He Invited Payne to the club where he played with Morrison, hoping Morrison would invite him to join them, and after allowing Payne to sit-in on one performance, Morrison did extend an invitation that Payne accepted. The trio of Payne, Kielbania, and Morrison continued performing for four months. In the weeks they played at the Catacombs, they began to develop the template for Astral Weeks. It was around this time that Warner Bros. Records approached Morrison, hoping to sign him to their roster. Presumably their interest focused on his prior success with "Brown-Eyed Girl", not on Morrison's current acoustic work. Regardless, their interest allowed Morrison to return to the recording studio.
At the time, Warner Bros. had a deal with Inherit Productions, the production arm of Schwaid-Merenstein which was founded by manager Bob Schwaid (who worked for Warners Publishing) and producer Lewis Merenstein. Merenstein received a call from Warner Bros. to go see Morrison in Boston and related how eight or nine producers had gone to hear Morrison thinking they were going to hear "Brown Eyed Girl" and "it was another person with the same voice". Merenstein first heard Morrison play at Ace Recording studio and recalled that when Morrison played the song, "Astral Weeks" for him, "I started crying. It just vibrated in my soul, and I knew that I wanted to work with that sound."While Merestein had been to see Morrison, Schwaid had set to work on resolving Morrison's contractual troubles.
Still legally bound to Bang Records, Morrison would yet have more issues with them in the future. For the time being, Schwaid managed to free him from those obligations, under several conditions. First, Morrison had to write and submit to Web IV Music (Bert Berns's publishing company) three original compositions per month over the course of one year. Morrison fulfilled that obligation by recording thirty-six nonsense songs in a single session. Such action risked legal reprisals, but ultimately none transpired. Morrison then had to assign Web IV one half of the copyright to any musical composition written and recorded by Morrison and released as a single within one year from 12 September 1968. That demand became a moot point when Warner Bros. refrained from releasing any single during that time frame. (No single was released from Astral Weeks.) Finally, Morrison had to include two original compositions controlled by Web IV on his next album. Morrison fulfilled that demand with two of his own compositions, "Madame George" and "Beside You". (Although the versions subsequently released were vastly different musically than the original versions recorded with Bang.)
With his legal matters resolved, Morrison now had the freedom to proceed with recording his Warner Bros. debut album, with the recording sessions taking place at the Century Sound Studios in New York on 25 September 1 and 15 October 1968.
Recording adjacent to Van Morrison's studio, musician John Cale reported, "Morrison couldn't work with anybody, so finally they just shut him in the studio by himself. He did all the songs with just an acoustic guitar, and later they overdubbed the rest of it around his tapes." This is, in fact, completely untrue – the live tracks for the sessions were performed by Morrison on vocals and acoustic guitar in a separate vocal booth with the other musicians playing together on upright bass, lead acoustic guitar, vibes, flute, and drums. The strings and horns constituted the only instruments added subsequently to the initial recording sessions.
Producer Lewis Merenstein had a background in jazz, and according to Merenstein, Morrison "was not an aficionado of jazz when I met him. R&B and soul, yes; but jazz, no." For the Astral Weeks recording sessions, Merenstein first contacted veteran bassist Richard Davis. Perhaps best known for his work with Eric Dolphy, Davis essentially served as the session leader, and it was through Davis that Merenstein recruited guitarist Jay Berliner, percussionist Warren Smith, Jr., and drummer Connie Kay. All of these musicians had strong backgrounds in jazz; Berliner had worked closely with Charles Mingus and Kay was part of the Modern Jazz Quartet. Morrison was still working with Kielbania and Payne, but for these sessions, they were essentially replaced. According to Kielbania, "I got to show all the bass lines to Richard Davis. He embellished a lot of them, but I gave him the feeling."
Davis proved, perhaps, to be the most pivotal instrumentalist during these sessions. "If you listen to the album, every tune is led by Richard and everybody followed Richard and Van's voice," says Merenstein. "I knew if I brought Richard in, he would put the bottom on to support what Van wanted to do vocally, or acoustically. Then you get Jay playing those beautiful counter-lines to Van." Davis was not impressed by Morrison, but not out of disdain or any preconceived notions, but rather because Morrison's professional comportment generally did not meet Davis's expectations. "No prep, no meeting," recalls Davis. "He was remote from us, 'cause he came in and went into a booth… And that's where he stayed, isolated in a booth. I don't think he ever introduced himself to us, nor we to him… And he seemed very shy…" Drummer Connie Kay later told Rolling Stone that he approached Morrison and asked "what he wanted me to play, and he said to play whatever I felt like playing. We more or less sat there and jammed." Morrison's impression of the sessions was "The songs came together very well in the studio. Some of the tracks were first takes. [But] the musicians were really together. Those type of guys play what you're gonna do before you do it, that's how good they are." He told Ritchie Yorke that only two tracks recorded during the sessions did not make it to the album. "One was about Jesse James and the other about trains. They were both just basic blues numbers. That's why they didn't fit in with the album."
For the Astral Weeks sessions, apparently they did not employ any lead sheets, or at least none were distributed to the musicians. "What stood out in my mind was the fact that he allowed us to stretch out," recalls Berliner. "We were used to playing to charts, but Van just played us the songs on his guitar and then told us to go ahead and play exactly what he felt." Berliner actually had great appreciation for the freedom given to him and the band; something few, if any, of them were used to. "I played a lot of classical guitar on those sessions and it was very unusual to play classical guitar in that context," says Berliner.
The first session, held in the evening on 25 September 1968, produced four recordings that made it to the album. Only three had initially been intended for inclusion: "Cyprus Avenue", "Madame George", and "Beside You". Although not scheduled to play, Payne still attended the first session and listened as another flautist played his parts. To this day, nobody recalls the name of this flautist, nor has he been identified on any of the surviving documentation; he does play flute on the released takes of "Beside You" and "Cyprus Avenue" but is not included in the album credits. When Morrison tried to squeeze in one last tune during the end of that first session, Payne spoke up and pleaded to Merenstein to permit him to participate. Payne was then allowed to play on what became the title track of the album – "Astral Weeks" – the fourth song produced from this initial session. For the remainder of the sessions, John Payne played on every song.
The next session, according to John Payne, occurred early in the morning, but it did not work and nothing from this session worked for the final album. "It just didn't happen'" says Payne. "It was the wrong time of day for jazz musicians to create. I think that by the end of that session we all knew that nothing was going to be used. They just said, let's forget it." Jay Berliner was not available, so Barry Kornfeld was recruited to play lead guitar in his place. According to Merenstein, there was tension at this second session and it was stopped after about three hours. Morrison was quoted by Ritchie Yorke as saying the album was recorded in "two eight-hour sessions, plus two overdub sessions. That was the whole album." In his biography, Clinton Heylin gives the date for the second session as 1 October and states that "Only 'As Young Lovers Do' from this session would make the album" contending that this is the reason for the different "lounge-jazz sound" on this track.[33] Other biographers have primarily noted that the early morning first of October session was abandoned without producing any of the songs on the album.
The third and final session, in the evening on 15 October, produced four more recordings that completed the album — "The Way Young Lovers Do" "Sweet Thing", "Ballerina" and "Slim Slow Slider". Davis expressed to Rolling Stone that there was a "certain feel about a seven-to-ten o' clock session" and that "the ambience of that time of day was all through everything we played". Both "Sweet Thing" and "Ballerina" were originally scheduled for the session, but the search for a 'closer' consumed a considerable amount of time. They attempted (and rejected) a number of songs until Morrison suggested "Slim Slow Slider". "I don't think we'd ever done [it] live," recalls Payne. "[Morrison] had a book full of songs… I don't know why he decided to do it…And we were first doing it with the drums, with Richard Davis and Connie Kay and the guitar player and the vibe player and me and Van — all of us were playing. Then I started playing soprano sax on the thing, and Lew said, 'OK, I wanna try it again. Start again. And I want just the bass, the soprano sax, and Van.'" It was a successful take, but it also came with a very long coda, prompting Merenstein to make a large cut during the editing process. Many of the tracks on Astral Weeks would be subjected to edits (mainly to tighten the performances), but the one on "Slim Slow Slider" was easily the most substantial. "I would estimate three, five minutes of instrumental stuff," says Payne. "We went through stages [until] we got to be avant-garde kind of weird, which is what you hear after the splice — all that weird stuff we're playing — but there was a whole progression to that." According to Merenstein, before he cut it, the coda "was a long, long ending that went nowhere, that just carried on from minute to minute…If it had [some] relativity to the tune itself, I would have left it there."
The recording engineer for the album, Brooks Arthur, remembered the sessions in 2009: "A cloud came along, and it was called the Van Morrison sessions. We all hopped upon that cloud, and the cloud took us away for awhile [sic], and we made this album, and we landed when it was done." In a Rolling Stone interview in 1972, Morrison told John Grissim, Jr.: "I was really pretty happy with the album. The only complaint I had was that it was rather rushed. But I thought it was closer to the type of music I wanted to put out. And still is, actually."
Astral Weeks received critical acclaim soon after being released, but it was not a best selling album with the general public, even though Rolling Stone named it album of the year and Melody Maker called it "one of the strongest albums of the year". Steve Turner relates how it was "one of the essential albums for travellers on the 'hippie trail' from Europe through to Kathmandu and there were even reports of vans painted in psychedelic colours being renamed 'the Van Morrison'." A year later with the release of Moondance, Warner Bros. ran full-page advertisements with the note: "It may be a little tough to find 1969's Astral Weeks in some record stores. Damn shame. It wasn't adopted by the Pepsi set and ended up as what you might call a critically acclaimed but obscure album… If you want it and can't find it, yell at the store's record buyer. Loud, because you're the customer and you're always right. Undo the veils of potential obscurity."
In 1979, Lester Bangs wrote in an essay, published in the book Stranded: Rock and Roll for a Desert Island, "Van Morrison was twenty-two or twenty-three—years old when he made this record; there are lifetimes behind it. What Astral Weeks deals in are not facts but truths. Astral Weeks, insofar as it can be pinned down, is a record about people stunned by life, completely overwhelmed, stalled in their skins, their ages and selves, paralyzed by the enormity of what in one moment of vision they can comprehend."
In a 2004 review, Sean O'Hagan with The Observer described the album as: "Ultimately unreadable, utterly singular, it remains one of those rare albums that actually lives up to the extravagant claims made on its behalf." In another article about Astral Weeks in November 2008, O'Hagan wrote that "Its singularity lies, as Costello points out, in its vaulting ambition. It is neither folk nor jazz nor blues, though there are traces of all three in the music and in Morrison's raw and emotionally charged singing. There are no solos save for the ethereal flute and soprano saxophone improvisations that are woven through the last, and shortest, song, 'Slim Slow Slider', the album's elegiac coda. Throughout, there are interludes of breathtaking beauty when the music surges and subsides, rises and falls, around Morrison's voice."
Alan Light of CNNTime magazine wrote in 2006 that "Morrison sings of lost love, death and nostalgia for childhood in the Celtic soul that would become his signature." Light asserted that "Astral Weeks didn't reach the charts, but its mystic poetry, spacious grooves, and romantic incantations still resonate in ways no other music can." The Rolling Stone reviewer wrote that the album was "soft, reflective, hypnotic, haunted by the ghosts of old blues singers and ancient Celts and performed by a group of extraordinary jazz musicians". Again noting the album's rare hypnotic effects, Allmusic's review describes its "unique musical power". Joe Levy remarks: "Astral Weeks is about a different way of organizing thought, a different way of organizing music. It's otherworldly." Popmatters noted: "Because everything came together and then somehow disappeared, one could argue Astral Weeks came to life much like John Milton's exhortation at the beginning of "Paradise Lost": through the muse's effervescent mists."
Music critic Greil Marcus said that Martin Scorsese told him, in 1978, that the first fifteen minutes of his movie Taxi Driver was based on Astral Weeks. In an NPR review, Marcus, who says he has listened to the Astral Weeks record more than any other, comments about it: "You can hear these moments of invention and gasping for air, and you reach your hand and close your fist and when you open your fist there's a butterfly in it. There was really something there, but you couldn't have seen it. You couldn't have known."
Glen Hansard of The Frames says that he was captivated by the feeling of freedom when he first heard the album. Hansard says: "It made me realize that so much of what makes music great is courage, and up to that, what I thought made music great was practice and study…This album says there's more to life than you thought. Life can be lived more deeply, with a greater sense of fear and horror and desire than you ever imagined." Niall Stokes of Hot Press praised the album upon its being voted as best Irish album of all time in 2009: "Van Morrison's Astral Weeks is a worthy poll-topper. It's an extraordinary work, packed with marvelously evocative songs that are rooted in Belfast but which deliver a powerful and lasting universal poetic resonance. Astral Weeks has consistently appeared in polls of the Greatest Albums of All Time, in the US, the UK and all over the world – so it has been widely recognized as a really important work of art." The album's producer Lewis Merenstein said in 2009: "To this day it gives me pain to hear it. Pain is the wrong word—I'm so moved by it."
In December 2010, writing in Tablet Magazine, Lieb Liebovitz called the album "one of very few albums I know that possess the quality of redemption". He explained that: "No matter what afflictions you, the listener, might bring into the experience, no matter how much woe or heartache or ennui or sweet melancholy, Morrison's howls—and the swirling musical notes that accompany them—will purge you of your sadness."
Immediately upon release, the album was a favourite with critics and had an impact on future releases of other musicians such as Bono and Bruce Springsteen. Mike Ragogna with The Huffington Post wrote that Astral Weeks influenced Springsteen's 1973 first album Greetings from Asbury Park, N.J. and two of the songs from his second.
In his 1975 book, Ritchie Yorke wrote "It was almost as if Van Morrison, elusive at any time, had deliberately created an album of music which would indefinitely withstand the vulgarity of music industry image-making. Later they might say that other albums were reminiscent of Astral Weeks, but they could never claim that Astral Weeks was like anything else."
Greil Marcus refers to the impact of the album calling it a "common language" and relates that: "I was so shocked when I was teaching a seminar at Princeton just a couple years ago, and out of 16 students, four of them said their favorite album was Astral Weeks." Marcus goes on to say, "Now, how did it enter their lives? We're talking about an album that was recorded well before they were born, and yet it spoke to them. They understood its language as soon as they heard it."
Elvis Costello described Astral Weeks as "still the most adventurous record made in the rock medium, and there hasn't been a record with that amount of daring made since". Johnny Depp, in a Rolling Stone interview in 2008, recalled how when he was a preteen his older brother (by ten years) tiring of Johnny's favourite music of the time said, "'Try this.' And he put on Van Morrison's Astral Weeks. And it stirred me. I'd never heard anything like it." Steven Van Zandt (Bruce Springsteen's E Street Band) has said: "Astral Weeks was like a religion to us." Joan Armatrading has said that Astral Weeks was the first album she purchased as a teenager and that it opened her up musically. In August 2010, director and choreographer, Jessica Wallenfels, staged a production in Portland, Oregon of a rock opera/story ballet of Astral Weeks called "Find me Beside You".
Astral Weeks has often appeared on "best of all time" album lists including the No. 2 rating by Mojo In 1995 and the No. 19 ranking by Rolling Stone in 2003.The Times listed Astral Weeks at No. 3 of The Times All Time Top 100 Albums. In 1998, it was voted the 9th greatest album of all time in a "Music of the Millennium" poll conducted by HMV, Channel 4 and The Guardian. In 2000, Q magazine placed it at No. 6 in its list of the 100 Greatest British Albums Ever. It was listed along with Moondance among the All-Time 100 albums by CNNTime magazine in November 2006. In 2009, it was voted No. 6 on the list of The 100 Greatest Singer-Songwriter Albums of All Time by the editors at Amazon.com. In December 2009, it was voted the top Irish album of all time by a poll of leading Irish musicians taken by Hot Press magazine. In 1999, Astral Weeks and Moondance, Morrison's next album, were inducted into the Grammy Hall of Fame. Astral Weeks was reissued by Warner Bros. on 180 g. vinyl in December 2008.
Track listing
All songs written and composed by Van Morrison.
Side One: In The Beginning
No.
Title
Length
1.
"Astral Weeks"
7:06
2.
"Beside You"
5:16
3.
"Sweet Thing"
4:25
4.
"Cyprus Avenue"
7:00
Side Two: Afterwards
No.
Title
Length
1.
"The Way Young Lovers Do"
3:18
2.
"Madame George"
9:45
3.
"Ballerina"
7:03
4.
"Slim Slow Slider"
3:17