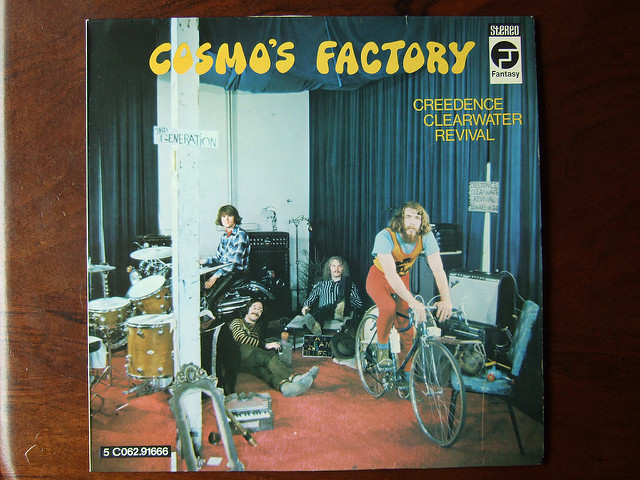 Cosmo's Factory is the fifth studio album by American rock band Creedence Clearwater Revival (CCR) which was released July 1970 by Fantasy Records. The album is regarded as the band's best with it being ranked #265 on Rolling Stone's list "The 500 Greatest Albums of All Time".
The idea for the name of the album comes from the warehouse in Berkeley where the band rehearsed early in their career. It was nicknamed "The Factory" by drummer Doug "Cosmo" Clifford because bandleader John Fogerty made them practice in the warehouse almost every day.
Cosmo's Factory's first single was the band's anthem "Travelin' Band". The heart of the album is the six singles released which were "Up Around the Bend", "Run Through the Jungle", "Who'll Stop the Rain", "Lookin' out My Back Door" and "Long as I Can See the Light". These six songs have a delightful contrasting style from upbeat and energetic to soulful and laid-back.
The record was a hit internationally, topping the album charts in six countries. It was was certified Gold by the Recording Industry Association of America in 1970. On December 13, 1990, it received a certification of four times platinum with sales of over four million copies.
Tracks:
Side One
1.        'Ramble Tamble'
2.        'Before You Accuse Me'
3.        'Travelin' Band'
4.        'Ooby Dooby'
5.        'Lookin' Out My Back Door'
6.        'Run Through the Jungle'
Side two
1.        'Up Around the Bend'
2.        'My Baby Left Me'
3.        'Who'll Stop the Rain'
4.        'I Heard It Through the Grapevine'
5.        'Long as I Can See the Light'
Photo Credit: Piano Piano