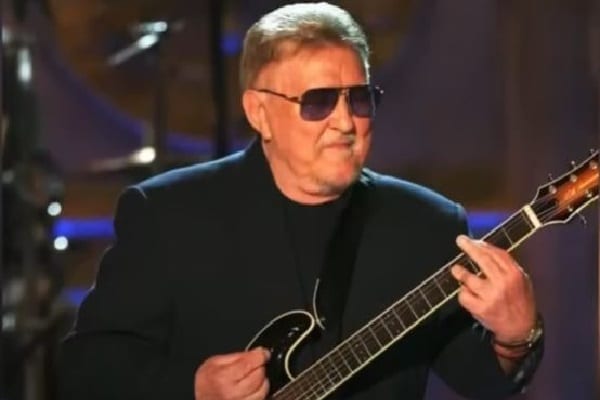 Sad new from across the North Atlantic this week as co-founder and rhythm guitarist of ground-breaking quartet, the Ventures, has died. Don Wilson's son, Tim confirmed his father sadly died of natural causes at his home in Tacoma, Washington on Saturday January 22nd.
Speaking to The News Tribune, Tim said the 88-year-old "was an amazing rhythm guitar player who touched people all over world with his band, the Ventures. He will have his place in history forever and was much loved and appreciated. He will be missed."
The Ventures produced many great albums, 38 of which charting across the United States in the 1960s and early 1970s. With 14 hit singles on the Billboard 100, and more than 100 million records sold, the Ventures are the best-selling instrumental band of all time, according to The Independent.
Ventures founders Bob Bogle and Wilson were bricklayers in 1958, when they were working as construction workers in Seattle. Wilson, the last surviving member of the core Ventures line-up, was the sturdy backbone of the group with his chugging electric guitar sound. When they bought guitars and chord books at a pawnshop in Tacoma, "They were just really cheap guitars," Wilson once recalled. "They didn't stay in tune very well. But we wanted to learn."
By the next year, they had formed The Ventures, adding Howie Johnson on drums, and Nokie Edwards on bass guitar – who played lead guitar on the band's iconic 1960 rendition of Johnny Smith's Walk, Don't Run. Although Mel Taylor replaced Johnson on drums; he, Wilson, Bogle, and Edwards are considered the core members of the band's seminal period in the '60s.
Riding the surf rock wave of the era, the Ventures rubbed shoulders in the charts with Walk, Don't Run as synonymous with '60s surf rock as Wipeout, and the music of Dick Dale and Link Wray. Their music influenced countless artists, particularly guitarists like George Harrison, Stevie Ray Vaughn, Eddie Van Halen, Jimmy Page, the Beach Boys' Carl Wilson, among others.
Inducted into the Rock & Roll Hall of Fame in 2008 by Creedence Clearwater Revival's John Fogerty, Don accepted on behalf of his Ventures bandmates. "Who would have thought that after recording 'Walk, Don't Run' 48 years ago, we would be going through this honour tonight? Not bad for two former bricklayers."