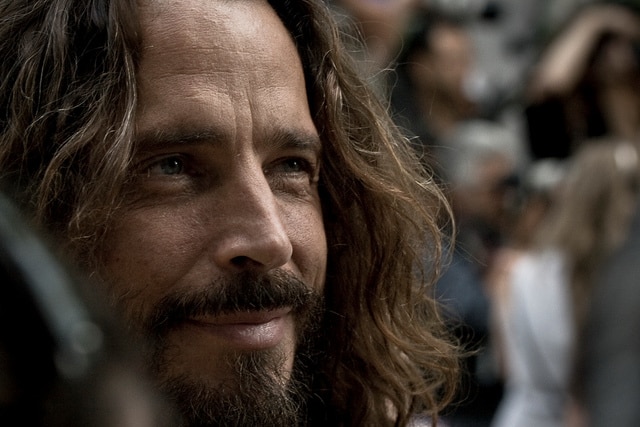 Chris Cornell's wife has penned an emotional open letter to her late husband.  She released the statement to Billboard yesterday where she describes him as her "Soulmate" and that she knows "their paths will cross again someday". Chris died at the age of 52.
Cornell, the lead vocalist for Soundgarden and Audioslave, was found hanging in the bathroom of his hotel after a show in Detroit, Michigan, on May 17.  He was married to Vicky Cornell and the couple had two children together.
She spoke about how she knows his death was not his fault and that she was sorry he was alone at the time of his death.  She described Cornell as the best husband and father to their children.  The heartbreaking letter comes as questions have been arising over the involvement of anti anxiety medication in his death.
Previous to this, Vicky Cornell had spoken out about what she believes is the actual cause of his death. Shortly after his death, Vicky issued a statement speculating that her husband had suffered from adverse side effects of Ativan, an anxiety medication he took. "When we spoke after the show, I noticed he was slurring his words; he was different," she wrote then. "When he told me he may have taken an extra Ativan or two, I contacted security and asked that they check on him. What happened is inexplicable and I am hopeful that further medical reports will provide additional details. I know that he loved our children and he would not hurt them by intentionally taking his own life."
You can read Vickys full open letter below
Read Vicky Cornell's full open letter:
To My Sweet Christopher,
You were the best father, husband and son-in-law. Your patience, empathy and love always showed through.
You had always said I saved you, that you wouldn't be alive if it were not for me. My heart gleamed to see you happy, living and motivated. Excited for life. Doing everything you could to give back. We had the time of our lives in the last decade and I'm sorry, my sweet love, that I did not see what happened to you that night. I'm sorry you were alone, and I know that was not you, my sweet Christopher. Your children know that too, so you can rest in peace.
I'm broken, but I will stand up for you and I will take care of our beautiful babies. I will think of you every minute of every day and I will fight for you. You were right when you said we are soulmates. It has been said that paths that have crossed will cross again, and I know that you will come find me, and I will be here waiting.
I love you more than anyone has ever loved anyone in the history of loving and more than anyone ever will.
Always and forever,
Your Vicky