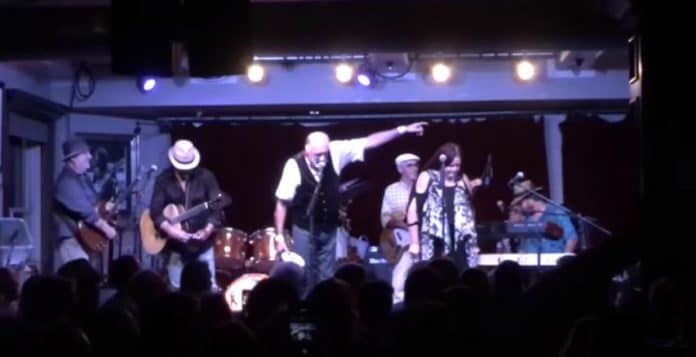 Fleetwood Mac Hero Mick Fleetwood was joined on stage by AC/DC's Brian Johnson for a performance of the blues classic '(Get Your Kicks On) Route 66'.
The meeting of rock legends took place at Fleetwood's restaurant called Fleetwood's On Front St in the drummer's residence of Maui, Hawaii. Fleetwood introduced the AC/DC singer to a surprised crowd of diners. Then, Johnson took to the mic to say it was a 'a big honour' to be with his idol on stage.
After accidentally calling his idol  'Flick Meetwood', Johnson joked that he was 'breaking these teeth in for a friend'. The pair then played the blues standard to the small audience.
Fleetwood Mac were only recently honoured as MusicCares Person of The Year and were the first band to receive the award. During the ceremony, the band performed the classic 'Rumours' track 'The Chain' with none other than Harry Styles.
In 2017, Brian Johnson had to retire from touring due to hearing problems. Guns 'N Roses' frontman Axl Rose then joined AC/DC as a guest vocalist. It was reported last month that he'll continue touring and recording with the band.
Malcolm Young passed away in November last year, after suffering from dementia. The illness meant he had to retire from working with AC/DC in 2014.
There's two video recordings of the tune,