Here is your first look at PIXIE, the comedic thriller set in Ireland and filmed here last year.
Opening on October 23rd, PIXIE stars Olivia Cooke, Ben Hardy, Daryl McCormack, Colm Meaney, Alec Baldwin, Dylan Moran, Chris Walley & Pat Shortt.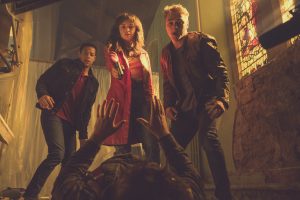 Directed by Barnaby Thompson (St. Trinian's 1&2), the film follows Pixie who wants to avenge her mother's death by masterminding a heist, but her plans go awry and she finds herself on the run with two young men who are way out of their depth being chased across the Wild Irish countryside by gangsters.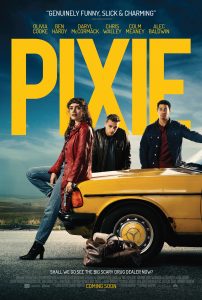 According to the film's synopsis:
Feisty and quick-witted, Pixie (Olivia Cooke) decides it's finally time to escape her rural hometown and criminal family – exacting some revenge along the way. Her plan: seduce a couple of gangsters into a high-stakes drug deal and make away with the loot. Everything goes awry when the robbery ignites an old rivalry between her father (Colm Meaney) and the dangerous priest-turned-mob-boss, Father McGrath (Alec Baldwin). 
When two naive friends (Ben Hardy and Daryl McCormack) accidentally save Pixie's life, she turns on the charm and convinces them to tag along on a madcap adventure full of danger. With a body in the trunk and stolen drugs in the back seat, Pixie and the boys flee the wrath of McGrath and his gun-wielding gang of priests. In order to survive, she must turn to the family she tried so hard to push away and embrace her gangster heritage one last time.