A music video for David Bowie's previously unreleased 1997 redo of 'Repetition' has arrived online.
'Reptition' originally appeared in the late 70's on his 'Lodger' album and this new video is compiled from clips of rehearsals for Bowie's 1997 "Earthling Tour" in Hartford Connecticut by Tim Pope. The audio version of the track is also available to stream now. 
It's a bit creepy looking as it features slightly offset doubled images of Bowie's face, the kind of thing in the old days you'd hit the side of the TV for to sharpen up the picture!
'Repetition '97' is taken from 'ChangesNowBowie' and was set to arrive for Record Store Day April 17. Its release is now postponed with RSD until June 20.
The collection will still receive a digital release on the original date April 17.
'ChangesNowBowie' is an unreleased nine-track album, recorded for radio and broadcast by the BBC on David's 50th birthday on 8th January, 1997. The broadcast featured an interview with David by Mary Anne Hobbs interspersed with specially recorded birthday messages and questions from the likes of Scott Walker, Damon Albarn, Bono, Robert Smith and many more. This mostly acoustic session was a stripped back affair featuring some of David's favourites of his own compositions and was produced by Bowie himself, Reeves Gabrels and Mark Plati.
'ChangesNowBowie' was recorded and mixed at Looking Glass Studios in New York in November 1996. Gail Ann Dorsey (bass, vocals), Reeves Gabrels (guitars, vocals) and Mark Plati (keyboards and programming) accompanied David on the recording.
The cover art for the album features a stunning black and white portrait of David by renowned photographer Albert Watson, taken in New York in 1996.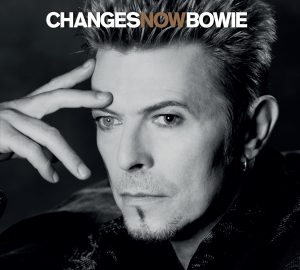 DAVID BOWIE – CHANGESNOWBOWIE TRACKLISTING
The Man Who Sold The World
Aladdin Sane
White Light / White Heat
Shopping For Girls
Lady Stardust
The Supermen
Repetition
Andy Warhol
Quicksand