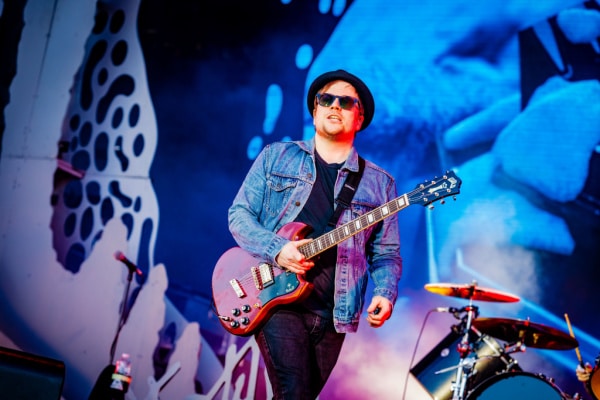 Would you like to listen to the article instead of reading it?
Fall Out Boy performed their updated version of classic Billy Joel track, 'We Didn't Start The Fire' at last night's MTV VMA Awards.
The band's performance of this track, which you can check out below, features references to major news stories like Donald Trump's impeachments, BREXIT, Michael Jackson's death, along with moments in popular culture such as the classic Harry Potter movies, MySpace, Kanye West and more.
This also marks Fall Out Boy's first appearance at the awards ceremony since 2007, and their third overall, having also appeared in 2005.
Check this performance out for yourselves below.
Fall Out Boy tocando "We Didn't Start The Fire" no #VMA pic.twitter.com/vVQpu54ecj

— We In The Crowd (@weinthecrowd) September 13, 2023
What did Billy Joel say on latest Fall Out Boy Version?
Fall Out Boy released their updated version of the track earlier this Summer.
"I thought about this song a lot when I was younger. All these important people and events- some that disappeared into the sands of time- others that changed the world forever", Fall Out Boy said when sharing this track via Instagram.
"So much has happened in the span of the last 34 years- we felt like a little system update might be fun. Hope you like our take on it…".
The track was originally released by Billy Joel, featuring on his album 'Storm Front' in 1989, becoming the singer's third track to reach number one in the US Billboard 100 Chart.
'Storm Front' also earned a nomination for album of the year at the Grammy Awards that year.
But what did Joel have to say about the updated version of his track?
"Everybody's been wanting to know when there's going to be an updated version of it, because my song started in '49 and ended in '89 — it was a 40 year span", Joel said in an previous interview.
"Everybody said, 'Well, aren't you going to do a part two?' I said, 'Nah, I've already done part one.' So, Fall Our Boy, go ahead. Great, take it away".