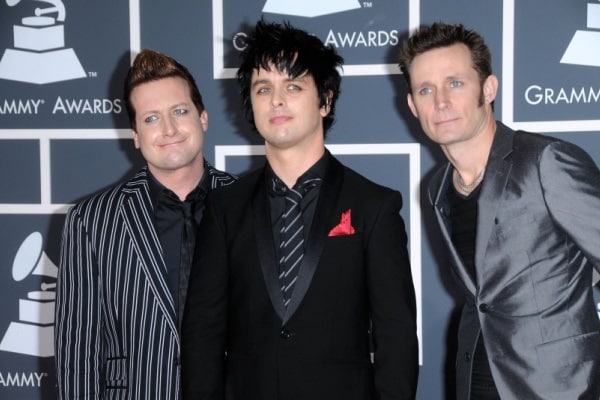 Would you like to listen to the article instead of reading it?
Green Day recently debuted a new song at an intimate live show at Las Vegas.
The band were performing at the venue ahead of last weekend's 'When We Were Young Festival'.
This intimate show saw Green Day perform at the 1,000 Fremont Country Club venue, and also saw them treat the crowd to live covers of tunes from their classic 'Dookie' album from 1994.
Billie Joe Armstrong and co released a special 30th anniversary edition of this album last month. More on this here.
"The first song off our new album"
Following this special performance of tracks from their 'Dookie' album, Green Day later treated the audience to a second set of tracks.
This included a new track called, 'The American Dream Is Killing Me', which frontman Billie Joe Armstrong introduced to the audience as "the first song off our new album".
According to Green Day, the track is due for official release tomorrow (October 24). Check out footage of this performance below.
Green Day also revealed that they will also be touring the US next year, alongside Rancid, Smashing Pumpkins, and the Linda Lucas.
The band also debuted another track 'Graffitia' from their latest album 'Father Of All Motherfuckers', which arrived in 2020. See that performance here.
Live rarities 'Homecoming', 'Last Night On Earth' and 'Oh Love', were also performed by the band.
https://twitter.com/GreenDayInc/status/1715294933647540700?ref_src=twsrc%5Etfw%7Ctwcamp%5Etweetembed%7Ctwterm%5E1715294933647540700%7Ctwgr%5E40b57755a8bbb4522e53660ad27fed58e43e12e2%7Ctwcon%5Es1_&ref_url=https%3A%2F%2Fwww.nme.com%2Fnews%2Fmusic%2Fgreen-day-debut-new-song-the-american-dream-is-killing-me-at-las-vegas-club-show-watch-footage-setlist-3518534
Green Day also posted this on their social media account.
https://twitter.com/GreenDay/status/1715258060095226106?ref_src=twsrc%5Etfw%7Ctwcamp%5Etweetembed%7Ctwterm%5E1715258060095226106%7Ctwgr%5E40b57755a8bbb4522e53660ad27fed58e43e12e2%7Ctwcon%5Es1_&ref_url=https%3A%2F%2Fwww.nme.com%2Fnews%2Fmusic%2Fgreen-day-debut-new-song-the-american-dream-is-killing-me-at-las-vegas-club-show-watch-footage-setlist-3518534