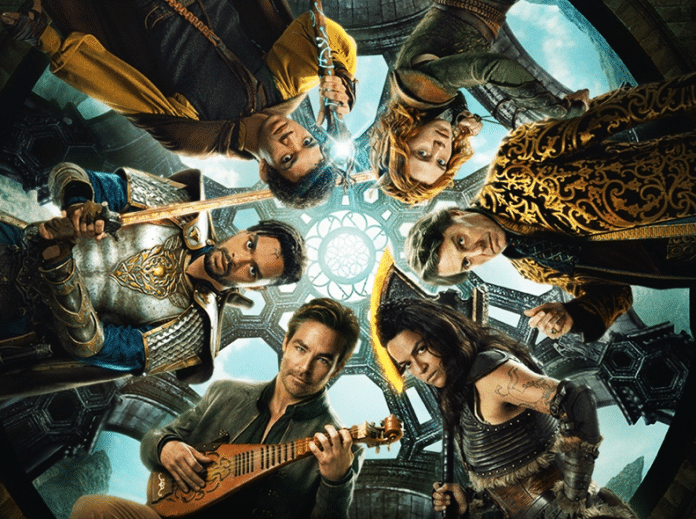 Would you like to listen to the article instead of reading it?
DUNGEONS & DRAGONS: HONOUR AMONG THIEVES is the legendary roleplaying game brought back on the big screen with a charming thief and a band of unlikely adventurers who undertake an epic heist to retrieve a lost relic, but things go dangerously awry when they run afoul of the wrong people.
DUNGEONS & DRAGONS: HONOUR AMONG THIEVES is a hilarious and action-packed adventure with a superstar cast of Hugh Grant, Chris Pine, Michelle Rodriguez and the most beautiful man in the world Bridgerton's Regé-Jean Page who told me he loved making the movie in Ireland
Sophia Lillis had her breakout moment playing Beverly Marsh in 2017's It, later reprising
the role in the film's sequel It Chapter 2. Sophia plays Doric in DUNGEONS & DRAGONS: HONOUR AMONG THIEVES. 
DUNGEONS & DRAGONS: HONOUR AMONG THIEVES directors John Francis Daley and Jonathan Goldstein's first worked together co-writing the comedy Horrible Bosses (2011) and co-writing/co-directing (in their directing debuts) the fifth film in the National Lampoon's Vacation film series, Vacation (2015). The duo were co-writers for Spider-Man: Homecoming (2017) and they co-directed the 2018 comedy Game Night.
TO WIN SOME COOL #DNDMOVIE MERCH JUST CLICK HERE TO EMAIL US THE ANSWER TO THESE TWO QUESTIONS: WHERE DID SOPHIA LILLIS LIVE WHILE FILMING? AND HOW MANY YEARS DID THE DIRECTORS WORK ON THE FILM FOR?