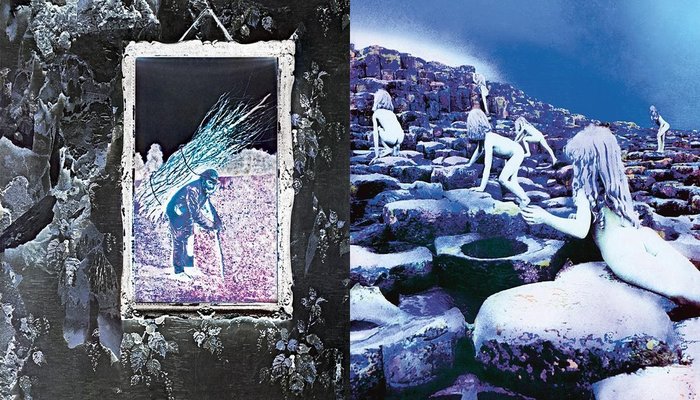 Led Zeppelin announce new editions of their classic albums Led Zeppelin IV and Houses of the Holy, they broke the news on their twitter account.
The group has released the track listings for the two new reissues, and details of what to expect on the new deluxe editions.
The thirty-seven million selling, Led Zeppelin IV, will include all the original tracks remastered by guitarist Jimmy Page, alternate versions of 'Misty Mountain Hop,' 'The Battle Of Evermore,' 'Going To California' and, most excitingly, 'Stairway To Heaven,' as well as previously unheard audio from the band's archives.
The eleven times platinum follow up, Houses of the Holy, will feature all the original songs remastered by Page, seven unreleased recordings on the second disc that include, a guitar overdub of 'The Song Remains the Same,' a guitar mix backing track for 'Over The Hills And Far Away' and an unreleased version of 'The Rain Song' without piano. Full track listings of both box-sets are at the bottom of the page.
The two new editions follow hot on the heels of Led Zeppelin's reissue campaign of Zeppelin I, II, III, back in June. Jimmy Page was also involved in the remastering of the first three albums and tried his best to insure that the bonus tracks had not been heard before.
Speaking to Radio.com, Page said: "I left no stone unturned. I was even checking out whatever had come out on bootleg that had leaked out of studios in the past – not by us, I might add. But I wanted to make sure that the material that I was going to present was not out already on bootleg."
The reissues come as single album editions, deluxe editions and as a super deluxe box set, which includes CDs, LPs, a digital download and an 80-page book with previously unseen photos from the group's heyday. Both releases drop on October 24th.
Check out the Super Deluxe Box Set editions of each album below.
Complete track listings:
Led Zeppelin IV
1. 'Black Dog'
2. 'Rock and Roll'
3. 'The Battle of Evermore'
4. 'Stairway to Heaven'
5. 'Misty Mountain Hop'
6. 'Four Sticks'
7. 'Going to California'
8. 'When the Levee Breaks'
Audio Disc 2
1. 'Black Dog' (basic track with guitar overdubs)
2. 'Rock and Roll' (alternate mix)
3. 'The Battle of Evermore' (mandolin/guitar mix from Headley Grange)
4. 'Stairway to Heaven' (Sunset Sound mix)
5. 'Misty Mountain Hop' (alternate mix)
6. 'Four Sticks' (alternate mix)
7. 'Going to California' (mandolin/guitar mix)
8. 'When the Levee Breaks' (alternate UK mix)
Houses of the Holy
1. 'The Song Remains the Same'
2. 'The Rain Song'
3. 'Over The Hills and Far Away'
4. 'The Crunge'
5. 'Dancing Days'
6. 'D'yer Mak'er'
7. 'No Quarter'
8. 'The Ocean'
Audio Disc 2
1. 'The Song Remains the Same' (guitar overdub reference mix)
2. 'The Rain Song' (mix minus piano)
3. 'Over The Hills and Far Away' (guitar mix backing track)
4. 'The Crunge' (rough mix; keys up)
5. 'Dancing Days' (rough mix with vocal)
6. 'No Quarter' (rough mix with John Paul Jones keyboard overdubs; no vocal)
7. 'The Ocean' (working mix)