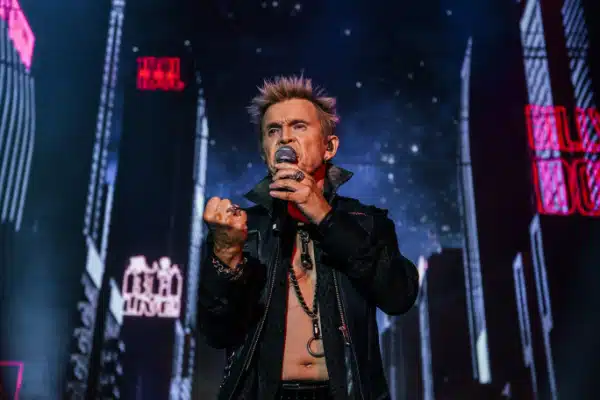 Would you like to listen to the article instead of reading it?
While he may have teamed up with some of the band's members to form a new band, Billy Idol has stated that he will never perform classic Sex Pistols hit 'Anarchy In The UK'.
Idol formed the group Generation Sex, which consists of a mixture of Generation X's Tony James, alongside Sex Pistols pair Paul Cook (drummer), and Steve Jones (guitarist).
As expected, the material released by this new supergroup comprised of Sex Pistols and Generation X.
Along with a set of European show dates, the new group also took to the stage at Glastonbury over the weekend.
"I'm being me"
However, while they may include 'God Save The Queen' and 'Pretty Vacant', there is one track which is a notable admission from the supergroup's back catalogue.
"We're not doing 'Anarchy in the U.K", Idol said in a recent interview. "It's such a Johnny Rotten song. 'God Save the Queen' and 'Pretty Vacant', I can get away with those".
Idol also insisted that he is not trying to replicate former Pistols frontman John Lydon, aka Johnny Rotten.
"I don't think I'm Johnny Rotten or anything", Idol continued. "Obviously I'm doing [Sex Pistols songs] how they're meant to be done but at the same time, yeah, I'm being me".
In the same interview, Steve Jones noted that while Generation X hold a different dynamic to Sex Pistols, he did state "but I still enjoy it. The spirit's there"
Elsewhere, Tony James added that the Pistols members "Pistolize the Gen X songs", while, "Billy Idolizes the Pistols songs".
He also added, "And it works perfectly, somehow, otherwise we wouldn't be doing it," he said. "To play other classic songs of your genre is such a joy. People often think of punk music as some sort of tuneless anarchic racket, but it's not at all. Billy is singing fantastic and Steve Jones has a powerful guitar sound, like nobody else".
As for the original Sex Pistols lead singer, John Lydon has branched out into the world of push bikes. More on this here.