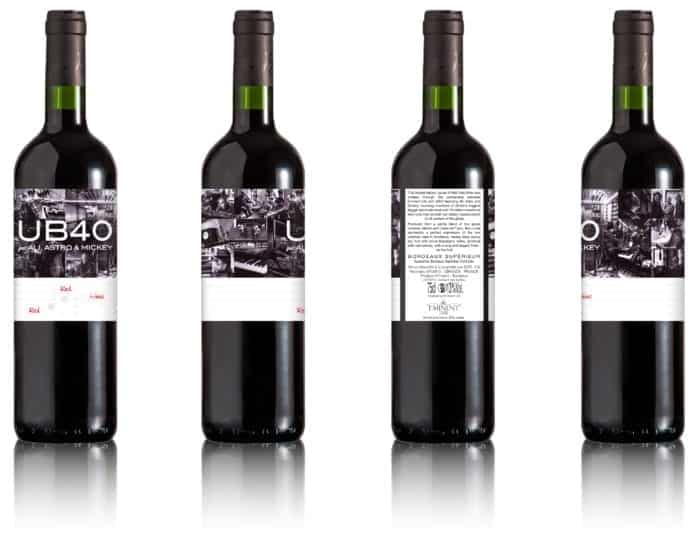 It was originally penned by Neil Diamond in 1967 and reached number 1 in Ireland in 1983 with a cover by UB40… but now it's an actual real thing!
Red Red Wine is the product of a partnership between UB40 and Eminent Life, who have created a special wine to celebrate Britain's biggest reggae legends tour for Summer 2017 and new album "Unplugged".
Ali Campbell and UB40 are heading our way on August 19th and 20th 2017 for Groove Festival 2017 and recently caught up with our own Peter Devlin to chat about the show they will put on and the Red Red Wine which we are giving away!
A classic blend of Merlot and Cabernet Franc grapes, this red, red wine is an archetypal claret – a deep colour with plenty of warm blackberry flavours and a long and elegant finish. Very drinkable. It takes a while to open out, so either decant it or open the bottle an hour before you want to drink it and use up the time by listening to Ali, Astro and Mickey's top hits.
The band's much anticipated return to the music scene coincides with the launch of their
'Red Red Wine' and hails their new era of music and beverage ventures. The Tour presents and excellent opportunity to see UB40 – featuring Ali Campbell, Astro and Mickey Virtue with their fantastic 8-piece reggae band at their best as they bring their enthusiasm, passion and winning combination of chilled and upbeat tracks to the centre stage. They will be joined by special guests Level 42, also performing a host of their greatest hits, along with The Original Wailers featuring Al Anderson and introducing Raging Fyah. Click here for tour dates http://ub40.org/ub40_live/
RED RED wine is available from Eminent Life (www.eminent-life.com) for £28.50 but you can win a ALI CAMPBELL SIGNED bottle just by sending an email to [email protected] with your details and 40 words or less about why you love UB40.
You must be over 18 to enter and if you win you will be asked to show proof of age and come in to Nova to collect your prize.