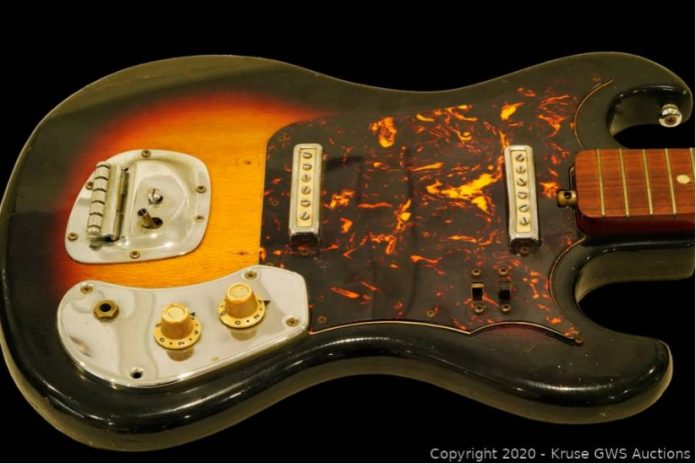 There is special guitar for sale… it's an early 1960s Japanese sunburst-coloured electric with no brand name… it's in a "well-loved condition" and there are no strings attached… literally.
In other words, it's an anonymous old wreck which, at the moment, is unplayable. So why is it going to auction with a starting bid of $50,000? Because it comes with a letter of authenticity from Leon Hendrix, Jimi's brother.
Jimi played it in the early to mid '60s. The guitar comes with a copy of this video interview with Leon Hendrix, who is also willing to have a private lunch with the winning bidder…at the bidder's expense of course.
Legend has it the guitar god used this exact axe shortly after he returned home from the U.S. Army in 1962 and moved to Clarksville, Tennessee.  While he was there, Jimi played the Chitlin' Circuit with some incredible talent — like Sam Cooke and Ike and Tina Turner.
Jimi's brother has said "that was the last time that Jimi sounded happy." Leon recalls, "I remember Jimi calling me from New York saying he so broke he can't even pay attention. He pawned his guitar and his friends got him one." 
When Jimi moved to London in 1966, he left this guitar in NYC at the apartment of one of his best friends.
For more information on the guitar, head to GWS Auctions before the auction hammer goes down August 8.