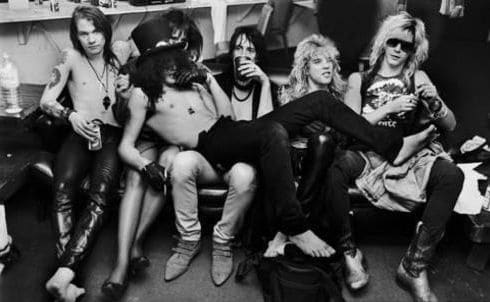 Up to 30 people were arrested at a Guns N' Roses gig at the Metlife Stadium in New Jersey over the weekend.
The recently reunited band played two gigs at the stadium with the trouble taking place on Saturday. The "Not in This Lifetime" Tour is the first time the band have performed together in over a decade. Guitarist Slash, singer Axl Rose and bassist Duff McKagan have reunited for the tour while drummer Steven Adler has made some guest appearances due to ill health.
Local radio station New Jersey 105.1 reported that 9 people were arrested for disorderly conduct while a further 11 were arrested for solicitation. Other's were arrested for open lewdness, assault, harassment and possession of under 50 grams of marijuana.
This isn't the only trouble Guns N' Roses have encountered on this tour, they were recently detained for gun possession before their gig in Canada.
The band have also been named by bookmakers as the early favourites to headline next years Glastonbury. However the band have yet to announce any Irish or UK dates for their current reunion tour. The "Not in This Lifetime" Tour will run until November.
Speaking to US TV Host Seth Meyers, Lenny Kravitz spoke of the atmosphere on tour, "It's really interesting to see them back together, everybody's really chill and they're going on (stage) on time. It's different… They took in a lot more than I did back then, you know what I mean?"
Photo Credit: NicoMartin