It was 42 years ago today (July 3rd, 1971) that Jim Morrison was found dead in the bathtub of his apartment in Paris, by his longtime companion, Pamela Courson.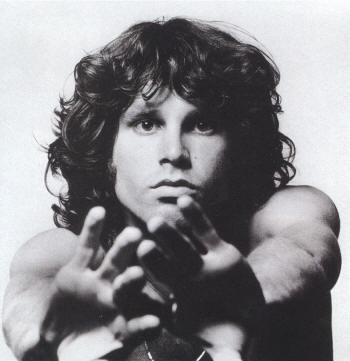 The local coroner ruled the official cause of death for the 27-year-old Doors frontman as "heart attack induced by respiratory problems." Morrison was buried in Pere Lachaise Cemetery on July 9th of that year.
On May 20th, 2013, Morrison's closest musical ally, and most fervent supporter, bandmate Ray Manzarek, died at age 74 in Rosenheim, Germany at the RoMed Clinic following a long battle with bile duct cancer.
Back in 2010, Florida's outgoing Governor Charlie Crist cleared Morrison's name just one day after what would've been his 67th birthday (December 8th) for his 1969 indecent exposure conviction in Miami. The then-surviving Doors – Ray Manzarek, John Densmore and Robby Krieger – who have long maintained that Morrison did not expose himself, said in a statement that Morrison had nothing to be pardoned for in the first place. They also said that an apology — not a pardon — would have been more appropriate "40 years after the fact."
Jim (and Ray) remembered tonight on NOVA with The Doors – "The Doors" playing in full at 11 with Dee.
http://www.youtube.com/watch?v=z9IIn3R6_50