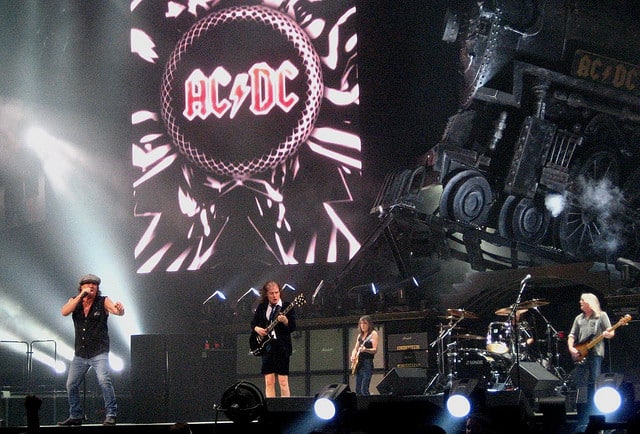 Tune in to Radio NOVA this weekend to win copies of the brand new AC/DC album.
The Aussie rockers premiere their first album in six years and Radio NOVA are celebrating with all things AC/DC this weekend.
We are giving away the band's new record Rock Or Bust all weekend and the new record definitely sounds like classic AC/DC.
Rock Or Bust is due out in early December and features 11 new tracks. The upcoming LP will be their first since Black Ice, released in 2008.
AC/DC's album giveaway will take place across the weekend, starting on Saturday morning tune in to Paul Moriarty from 10am-2pm, followed by Johnny Bowe in the afternoon from 2pm-6pm.
Then on Sunday make sure to listen to Ernie Gallagher from 8am-11am, Mike Moloney 11am-2pm and Johnny Bowe from 2pm-6pm for your chance to grab a copy of Rock Or Bust.
The band's 15th studio album was recorded in Vancouver, Canada. Singer Brian Johnson said, "It was brilliant over there. I'm very excited and we've got some great songs."
This will be the first AC/DC record without Malcolm Young. The band and his family both confirmed that the guitarist will not be returning to the group, due to health issues.
Malcolm Young co-founded AC/DC in November 1973 with his younger brother Angus, they were 18 and 20 years-old. Malcolm played with the band for 40 years as the rhythm guitarist, he was heavily involved in the band's sound, developing many of the band's signature guitar riffs and co-writing material with Angus.
Controversy has surrounded the band in recent weeks after AC/DC's drummer was arrested for trying to arrange a murder. The charge of attempting to procure the murder of two people has since been withdrawn. Although, the two other charges of threats to kill and drug possession still stand.
Make sure to listen to Radio NOVA this weekend for your chance to win a copy of Rock Or Bust.