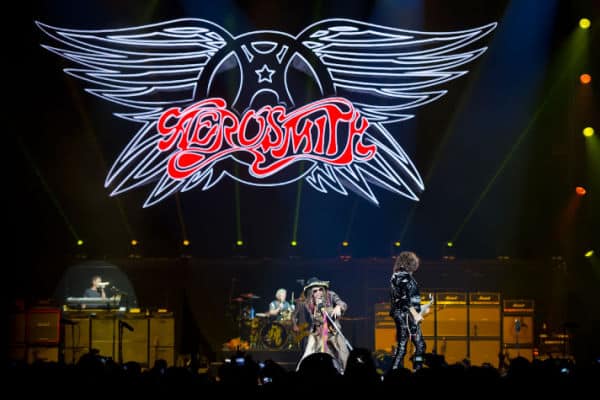 Would you like to listen to the article instead of reading it?
Aerosmith are to release a 'Greatest Hits' compilation later this year.
The compilation will include merchanise fan packs, clothing, along with accessories.
Arriving on August 18, this 'Greatest Hits' compilation from Aerosmith, will be available on double vinyl, lenticular CD, 4-LP deluxe vinyl box set, as well as 4-LP super deluxe box set.
The collection also features live photography and band snaps covering the entire career of Aerosmith in premium book-style sleeves, along with four black and white litographs.
It also contains 44 tracks spanning Aerosmith's career which has lasted five decades, including 'Cryin', 'Walk This Way', 'Dream On', 'Crazy', and 'I Don't Wanna Miss A Thing'.
You can get your hands on this collection via the band's official website here.
"don't see the time for it"
Elsewhere, Aerosmith guitarist Joe Perry has admitted that he is unsure if the band will release new music.
This comes after Perry was asked if he was to release a follow up to his solo album 'Sweetzerland Manifesto', which he released in 2018.
"Not right at the moment," Perry said. "I just don't see the time for it. I would put everything I have into doing another Aerosmith album, if that's even on the cards".
"I don't know. At this point, I want to tour as much as we can. I want to get out and play to the fans. That's really the focus right now, to get out and play live", he continued
"If we get time to work on some new music, that would be great, but knowing Steven [Tyler] and knowing our age and what it takes to do an album… I don't know. I'm always playing, I'm always writing stuff, but at this stage, I can't say. I just want to get through this next tour and play live and give something back to the fans".
He added, "We've never been the kind of band that you can sit back and go, 'Well, this is what the next three years are gonna be like, this is what our next five years are going to be like.' Especially now, at our age. The air is getting thin up here, man. So many people are passing on into the next step, so to speak".
Back in April, Aerosmith appeared to hint at a possible farewell tour.