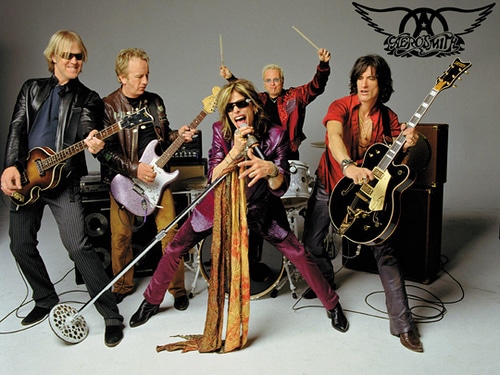 Aerosmith drummer Joey Kramer sure knows how to talk the talk. He's revealed that he doesn't think much of the Rolling Stones musical abilities. Speaking to Classic Rock recently, Kramer said the Stones "never had anything to offer me musically, especially in the drumming department."
Krammer proudly boasted that Aerosmith still had their original line up and are a superior live act.
"First of all, as far as Aerosmith goes there is no band that has been around for almost 50 years that still has the original five guys in the band.
Kramer added: "The Stones is not the original band and I do not care for them. I think if you came to see an Aerosmith concert, people would realise that we play so much better than them that it's silly because they're not so good live."
Formed in Boston, Massachusetts in 1970, Aerosmith are the winners of four Grammy Awards, six American Music Awards and then MTV video music awards; the band were inducted into the Rock and Roll hall of fame in 2001. They were also included among both Rolling Stone's and VH1's lists of the 100 Greatest Artists of All Time. In 2013, the band's principal songwriters, 'toxic twins' Tyler and Perry, were also inducted into the Songwriters Hall of Fame.
Krammer really drove home his views on the 'Satisfaction' rockers saying, "Everybody is always raving about the Stones, saying the Stones this and the Stones that. I've never cared for the Stones. They never had anything to offer me musically, especially in the drumming department."
"Yeah, they are what they are and all of that, but I don't think there's a band out there today that does what we do."
Krammer and co. are gearing up for Aerosmith's Aero-Vederci Baby Farewell Tour which will see them play shows across Europe this year, including a stop off here this summer. Check out the hilarious tour announcement video starring Tyler and Perry here.
Finally, asked if he saw bands coming through to replace Aerosmith as stadium fillers and festival headliners, Kramer responds: "I don't. When the bands that are around now are finished I think it will be the end of a very long era. I'm talking about bands like us, AC/DC and Van Halen."
Aerosmith are set to play Dublin's 3 Arena, Ireland June 14th.
Picture Credit: friskytuna