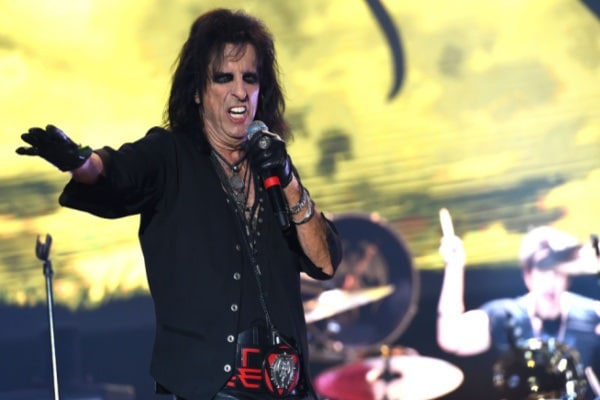 Would you like to listen to the article instead of reading it?
Just days ahead of his 'Too Close For Comfort' Tour, Alice Cooper has shared some details ahead of the shows.
The tour itself, sees Cooper support Def Leppard and Motley Crue for several stage shows, and will also see a return of Nita Strauss to his band, following a brief absence.
Cooper initially announced news regarding this tour back in January.
Next week we get a little too close for comfort…

🎟️https://t.co/wxj0Tylz4Y pic.twitter.com/bAmwd0rXXs

— Alice Cooper (@alicecooper) April 20, 2023
"door's always open"
Despite her temporary departure from the band, Cooper insisted that he and Strauss remained on good terms, opening the door for her return to the fold.
"I have [a] revolving door kind of policy", Cooper said. "I told her right up front, 'You should go [do] this,' but I said, 'The door's always open' and she came back. There was never any bad blood about stuff like that, and I got to bring Kane Roberts back for a while, which was fun".
Cooper also added, "To me, that's music, and that's showbiz. It's weird when people get angry with people for leaving. When they have an opportunity to do something, I'm like, 'See ya. Come back any time you can.' So Nita's back in the fold, and that's going to add that other element she brings. I can open up and do some songs that I don't normally because she can represent that Kane Roberts era".
"have to do the hits"
When asked about the catalogue being used for this tour, Alice Cooper revealed that the songs performed will be similar to previous shows.
"Like anything else, we have to do the hits", Cooper accepts. "The audience wants to hear the hits, so it's, How do you decorate those hits? How do you put them into a story form or some kind of a new way of looking at the show." He does promise that "we've added two or three new things," and he holds out the possibility of changes being made during rehearsals". 
"We have a set list … and I know that's going to change seven or eight times because we're gonna go, 'Ah, that song doesn't go into that song right. Let's put this song in there and that way it'll bridge into this next thing", he added. "And then musically my guys can learn a song in an hour, any song. So we're good on any front". 
"It's putting a puzzle together, really. It's just a matter of connecting the dots once you get up there. And I've got all the people that have done this for 50 years. Sheryl and I have been putting a show together like this forever. And [manager] Shep [Gordon] has been really more interested in the lighting of the show. So we really do know how to put it all together".