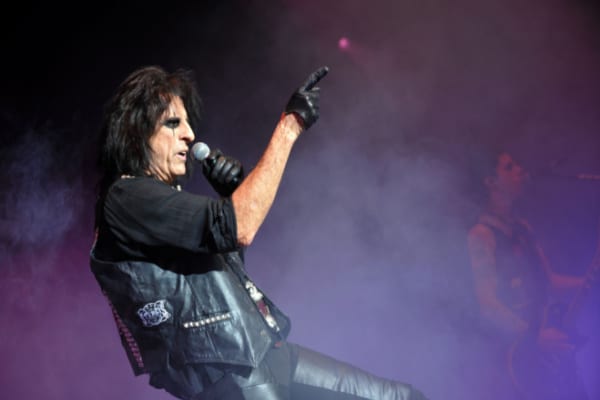 A live album which was recorded by Alice Cooper's band in 2015, is to finally get released.
The album itself Alice Cooper Live From The Astroturf was also mixed by Bob Ezrin and will arrive on September 30.
Ryan Boxie, the guitarist for Alice Cooper's band also features on the recording. He filled in for the late Glen Buxton.
This show was organised by Chris Penn, owner of Good Records.
Chris Penn managed to reunite the band, forty years after they split up.The show itself also marked the longest set that Alice Cooper's original band had played since they broke up.
This show also marked their first live appearance, since they were inducted into the Rock and Roll Hall of Fame in 2011.
Alice Cooper Live At The Astroturf
After all this time, this live album will finally be released.
This record is spread across five colour vinyl albums. It includes a CD and Blu-Ray digpack. This will also contain a DVD of the documentary Alice Cooper: Live At The Astroturf.
The documentary also includes a music video for I'm Eighteen and Under My Wheels.
The album also features interviews from original band members including, Dennis Dunaway, Michael Bruce and Neal Smith.
It had been previously recorded at the Good Records Store in Dallas, TX. The performance was first released as a Record Store Day Black Friday in 2018. Twleve different colour variants were spread across 4,000 copies.
Earlier this week, Alice Cooper also revealed the three bands that young musicians must listen to.
"I'm always saying everything revolves around how good the song is", Cooper said.
He continued, "You know, I don't care how exciting you are up there. Spend your time listening to the Beatles. I tell young bands all the time: 'I want you to listen to the Beatles, the Beach Boys and the Four Seasons. They wrote perfect songs, right? Their records were perfect".
He feels that the Beach Boys and Beatles are the perfect bands to listen to regarding songwriting. More on this report here.