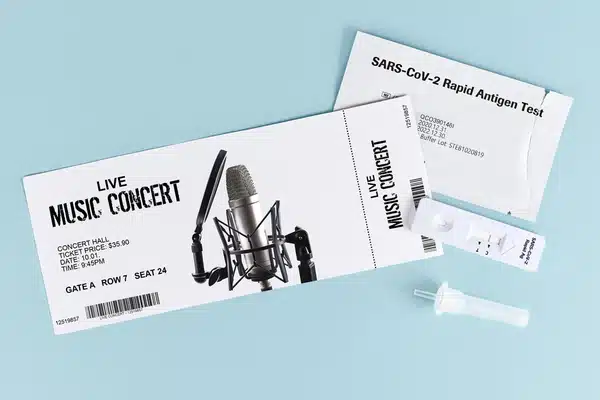 Rapid antigen testing for COVID-19 is expected to be carried out at the upcoming James Vincent McMorrow gig, next week. 500 concertgoers attending the first, pre-COVID, live outdoor event held at the Iveagh Gardens will partake in the testing.
According to BreakingNews, the antigen-tested concert will be a "standing-only event", with "pods" marked-out to ensure social distancing is upheld. Irish singer-songwriter James Vincent McMorrow will headline the event, on June 10th, with a special performance. James took to Twitter to say he is "gonna blow the absolute (imaginary) roof off the Iveagh Gardens!".
Speaking on RTÉ's Morning Ireland, Robert Read revealed that he is honoured the organisation will be curating the "extraordinary" antigen concert. The chief executive of the National Concert Hall added it has been "nearly 15 months" since audiences have been to the National Concert Hall. "To be able to have this opportunity to lead the reopening of the cultural sector in this way… is a real privilege".
Mr Read explains that musicians, artists, and crew have been availing of antigen testing, even when involved in "no-audience" shows. Performances have been live streamed in recent months in a bid to continue to share creativity through the pandemic. However, it is yet to be decided whether the audience at the Iveagh Gardens will be retested five days after the event.
Concertgoers can purchase tickets for this special event from the National Concert Hall's website when they go on sale this Thursday, at 10am. Mr Read also revealed that the event may also be available to stream online, making room for more fans to watch than just antigen testers. However, Read admits to being uncertain about whether the online stream would be live, or post events.
The concert is the first in a series of test live entertainment events organised by the Department of Arts, Tourism, Culture and Heritage. These live entertainment events are due to take place over a three-week period, beginning with James Vincent McMorrow on June 10th. An outdoor music festival is also on the cards for up to 3,500 spectators at Phoenix Park, on June 26th.
Ireland has been ramping up its testing of late, and even DIY antigen test kits began to sell in Lidl stores across Ireland last month. Waiting for the industry to get going again, albeit in small doses, promoters will be keen to see the outcome of this experiment for the future of events.