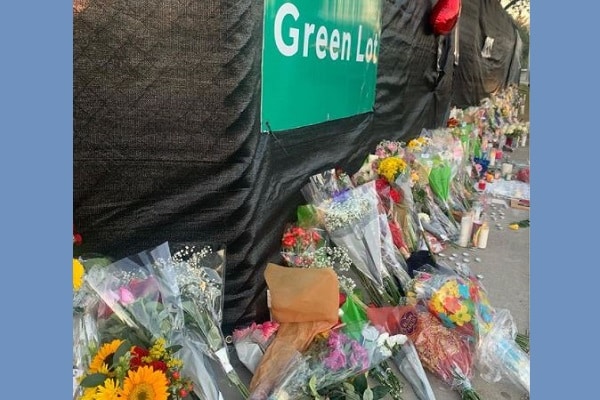 Music fans around the world are paying their respects to those who sadly perished at Astroworld festival in Houston TX, on November 5th. Eight festival goers sadly lost their lives with hundreds more injured when a "mass-casualty" crowd crush occurred during a headline set from organiser, Travis Scott.
Rolling Stone magazine have shared stories from whom were present at Astroworld, speaking of their return to NRG Park to pay their respects. A 16-year-old attendee recalled; "If one person pushed, it was a wave effect of people getting pushed to the front, sides, and back.
"If someone fell, people were pushing on top. People were jumping on medic carts. At some points, I couldn't breathe. It's traumatising. Looking left and right, seeing people being carried out, passed out on the floor, and crying for help, the whole thing is just crazy to me."
Fans have also shown online support in sharing photos and tributes, and scenes of the mass of flowers and messages left outside the festival site. Personal tributes to victims were made, including a 14-year-old and 16-year-old, as identified in Rolling Stone's article.
Rapper Kanye West, or 'Ye', shared his personal tribute to the those who perished by dedicating to them the latest iteration of Sunday Service. Meanwhile, fellow SS attendee, Roddy Ricch has donated his Astroworld performance fee to their families.
Rapper, and headline act, Travis Scott, has since taken to social media to release two statements on the tragic situation. A brief, written statement has been shared on his Twitter account with a longer video posted to Instagram.
"My fans really mean the world to me. I always just really want to leave them with a positive experience. Anytime I can make out what's going on, I stop the show and help them get the help they need."
JUST IN: Travis Scott shares video addressing the tragedy at Astroworld Fest pic.twitter.com/MSjVpJH3fK

— XXL Magazine (@XXL) November 7, 2021
The rapper has been hit with three lawsuits, so far, in relation to the crowd crush at the Astroworld festival. One suit is accusing Travis, as well as festival organisers Live Nation and ScoreMore, and other parties of "negligence and gross negligence". One suit also claims the incident resulted from "motivation for profit at the expense of concertgoers' health and safety". Keep updated here with live reports from News Houston.