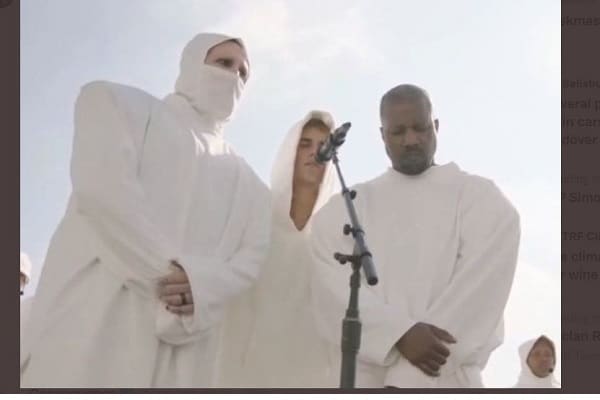 Kanye West brought his Sunday service back for a special livestream event yesterday (Oct 31). However, this sparked a frenzy after Marilyn Manson appeared at this service.
Over the past few months, Manson has received several allegations and lawsuits of grooming, sexual abuse and rape from several women, including his former partner Evan Rachel Wood. 
Other women include Game of Thrones star Esme Biano and Ashley Morgan Smithline. 
Manson himself has always denied these accusations, calling them "horrible distortions of reality". 
Check out yesterday's livestream event below.
https://twitter.com/ticowentpublic/status/1454905807527718913?ref_src=twsrc%5Etfw%7Ctwcamp%5Etweetembed%7Ctwterm%5E1454905807527718913%7Ctwgr%5E%7Ctwcon%5Es1_&ref_url=https%3A%2F%2Fwww.nme.com%2Fnews%2Fmusic%2Fkanye-west-joined-by-marilyn-manson-justin-bieber-sunday-service-3083905
Kanye West DONDA Album
Kanye West's "DONDA" album also surpassed one billion Spotify streams last week.
Chart Data took to Twitter to confirm this news  "@kanyewest's 'DONDA' has now surpassed 1 billion streams on Spotify. It's his fastest album to reach this milestone".
This is the fastest album recorded by the rapper to hit one billion streams on Spotify. More on that here.
"Don't Give Up"
Kanye West had also previously included Manson at a Listening Party for his new "DONDA" album. This sparked major criticism back in August.
Apearing at that event, Manson also stood on a stoop of a church-like structure, that West built in the centre of the stadium. When photos of this construction were released online, people said that it looked similar to the rapper's childhood home.
Following this appearance, Evan Rachel Wood took to social media to release a cover of the New Radicals' track "You Get What You Give".
She also wrote the caption, "For my fellow survivors who got slapped in the face this week. I love you. Don't give up".  Check out that post via her Instagram here.
Last month also saw Kanye West's application to change his name to Ye, approved by a court in LA.
He had first applied to change his name back in 2018. West had also flirted with the idea of changing his name to  "Christian Genius Billionaire Kanye West", but decided against it.